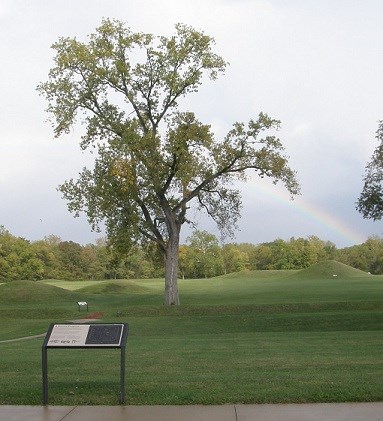 The amount of trees and shrubs located at each park site varies depending on location.
At High Bank Works, a riparian woodland is located along the steep banks of the Scioto River, with an understory comprised mainly of non-native shrubs.
Hopeton Earthworks contains 36 acres of black walnut grove and approximately 27 acres of early successional mixed deciduous open forest with random openings.
Hopewell Mound Group contains approximately 72 acres of semi-mature mixed mesophytic forest (mix of oaks, hickory, beech, sugar maple, ash, yellow poplar, and basswood) with a healthier understory.
Mound City, the location of the Visitor Center, contains 45 acres of early successional mixed mesophytic forest, with a very thick understory filled with non-natives.
Seip Earthworks is located near Paint Creek, where a 3-acre strip of riparian woodland exists, along with a mature riparian woodland along the northern edge and a small tallgrass prairie.