Reptiles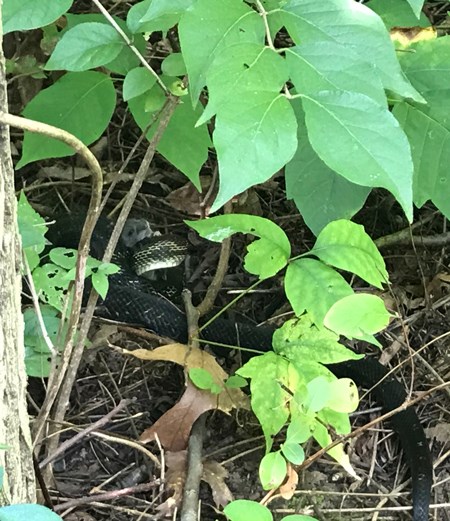 Eleven reptiles have been documented on park land including three Ohio State Species of Concern: eastern garter snake, eastern box turtle, and false map turtle. These ecotherms, organisms that regulate their body temperature through behavior such as sunning, wait for the warmer weather before becoming active.

Once conditions are right, a moist, forest floor may stir with activity from eastern box turtles, brown snakes, and eastern garter snakes. After scanning the ground, be sure to look up and check to see if any black rat snakes may be out sunning in the trees. Along the Scioto River or Paint Creek, the sound of splashing may mark the hasty retreat of sunning common map turtles or spiny softshell turtles. In open areas, racers may also be out and about. Other reptiles to keep an eye out for are milksnakes, northern water snakes, and common snapping turtles.

These animals are generally secretive in nature, therefore spotting them takes patience and keen observational skills, but is usually well worth the effort. During the warm summer months, it is common to find Black Rat Snakes resting on the warm concrete and stone walls around the visitor center and on the parking lot pavement. Although these slithery serpents are not poisonous, they may cause your heart rate to spike for a moment or two if you happen to stroll up to one. Please be sure to keep your distance and minimize your disturbance as they are protected animals on Natioanl Park Service grounds.


Last updated: October 27, 2017