Other Life Forms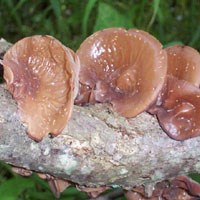 Fungi can be found throughout park land, but especially in areas left undisturbed. Fungi play myriad roles in the environment, good and bad. When decomposition is left to run its course, the cycle of nature works best as fallen or dying plants return the nutrients used to the soil, for new plants to thrive on. Read more about the good and the bad of fungi.

Edible mushrooms make up only a small fraction of the fungi found within the park. Morels (Morchella) are a popular edible in parts of Ohio, including the Ross county area. Mushroom hunters look for Morels when the oak leaves are "the size of a mouse's ear".1 Mushroom hunters should be vigilant during Morel hunting though. False Morels, Beefsteak (Gyromitra esculenta) and Early Morel (Verpa bohemica), can cause severe symptoms and could lead to organ damage if not treated.2 Normally, it is forbidden to remove any object or life form from any National Park Service site. However, in the case of Morel mushrooms, visitors may collect no more than 12 Morel mushrooms per visit for personal use or consumption only.


1 McKnight, K.H. and V.B. McKnight. 1987. A Field Guide to Mushrooms of North America. Houghton Mifflin Company, Boston, Massachusetts.
2 Niebel, Kelly L. "Use Caution to Avoid False Morel Mushrooms." Newsroom, Michigan Department of Health & Human Services, 21 May 2011, www.michigan.gov/mdhhs/0,5885,7-339-73970_71692_8347-256874--,00.html.


Last updated: October 27, 2017