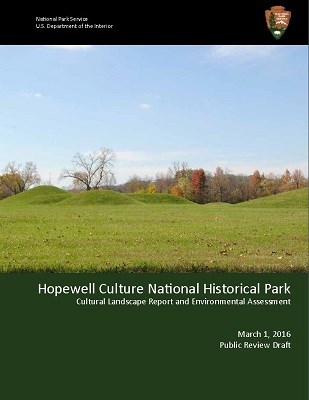 Cultural Landscape Report Available For Public Review
In 2016, the National Park Service (NPS) sought public input on a Cultural Landscape Report and Environmental Assessment (CLR/EA) for Hopewell Culture National Historical Park. The purpose of the CLR/EA is to develop a sustainable landscape management plan to protect the park's mounds, earthworks, and other archeological resources, while providing for improved visitor understanding and enjoyment. The public is encouraged to review the document. The comment period was open from March 18 through April 17, 2016. The cultural landscape planning effort had been underway since February 2015, and has included consultation with the Ohio State Historic Preservation Office and nine American Indian tribes with historic ties to the area.
To review the CLR/EA, please visit the National Park Service's Planning, Environment & Public Comment website. There, you can download PDF copies of the CLR/EA.
Chapter 6 - Treatment Plan identifies the preferred alternative and describes the treatments that would be applied at each park unit, and includes maps depicting the desired future condition at each unit.