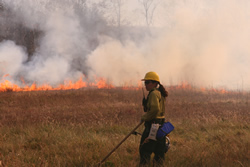 Prescribed Fire at Hopewell Mound Group Unit - 2008
The park proposed and conducted a prescribed fire at the Hopewell Mound Group unit in Autumn 2008. The purpose of the six acre fire is to reduce the accumulation of hazardous fuels, suppress tree and shrub encroachment, and re-establish the dominance of native species. Read and review the burn plan for this prescribed fire event. The fire crew used All Terrain Vehicles (ATVs) during the burn to assist them in their duties. Policies regarding the use of ATVs in the park are established. View the park's ATV plan. View the Standard Operating Procedure for ATVs.
More information and a map of the burn unit.
Read more about the story of this prescribed fire event.