Hopewell Exotic Materials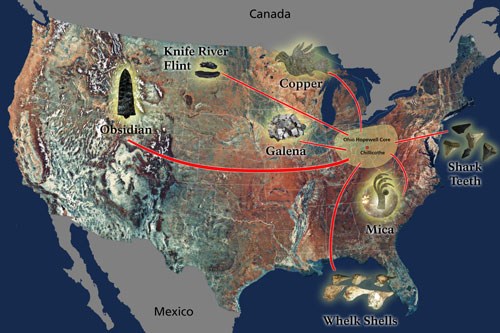 The earthworks created by people of the Hopewell culture were places of gathering and ceremony. Within and around them, archeologists often find materials that likely held special meaning to the people who placed them there. These materials were used to create beautiful ritual objects. We call these materials "exotic" because they do not come from what is now south central Ohio where Hopewell Culture National Historical Park is located. But how did they get there?
The people who were a part of the Hopewell Culture were coming to and from what is now Ohio bringing these "exotic" materials with them 2000 years ago. They traveled by foot and by boat as far west as the Rocky Mountains, meeting people from other native cultures as far north as the upper peninsula of what is now the state of Michigan, and as far south as the Gulf of Mexico. These were not ordinary trips; these travelers went to and from these locations especially for these materials and made sure to pick the very best. These materials chosen with care were placed under earthwork and mounds in the form of large spearpoints, geometric cutouts, and effigies. The craftsmanship of the people who created objects from these materials rivals that of highly trained professionals and artists today. The brilliance of these objects and the presence of these "exotic" materials are evidence of the achievements and influence of the Hopewell Culture.
The map below shows the "exotic" materials we find here at Hopewell Culture National Historical Park and roughly where they come from. Explore the background and uses, both during the precontact period and now, by clicking on each of the icons you see on the map.
Viewing the story map in full screen mode on your device is recommended for the best user experience.
Last updated: May 19, 2022