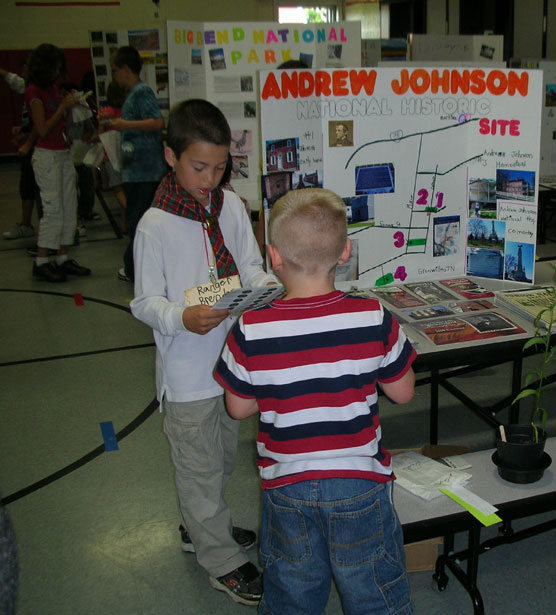 News Release Date:
October 28, 2009
Contact: Adam Prato, (319) 643-7855
WEST BRANCH, IOWA— This fall, after her second summer as an interpretive ranger at Herbert Hoover National Historic Site, teacher Kristen Bergren returned to her third grade classroom in Moline, Illinois. As the park's Teacher-Ranger, she will continue sharing her love for national parks with her students.
Every spring, under the supervision of Mrs. Bergren, the third grade at Butterworth Elementary holds a National Park Fair. Each student researches one national park, and then creates a "virtual visitor center" of pictures, publications, and information about that park. The National Park Fair visitors—classmates, parents, and teachers—move among displays in the school's gymnasium collecting souvenirs, stamping their National Park Fair "passport books," and learning about each park from the Student-Rangers.
Mrs. Bergren developed the National Park Fair long before she worked at Herbert Hoover NHS, but now as a Teacher-Ranger she gets to wear her ranger uniform to the classroom as she discusses her experience working in a national park. "The excitement I see in my students on National Park Fair day confirms that they share my enthusiasm for our national parks," she said.
With the help of park ranger Adam Prato, Mrs. Bergren produced a booklet to help other teachers hold their own National Park Fairs. "National Park Fair: Kids Teaching Kids about our National Parks" may be downloaded from the park's website, www.nps.gov/heho.
The Teacher to Ranger to Teacher Program (TRT) connects economically disadvantaged students with their National Parks. For more information about TRT and participating parks, visit https://www.nps.gov/learn/trt/.
Herbert Hoover National Historic Site and the Herbert Hoover Presidential Library and Museum are in West Branch, Iowa at exit 254 off I-80. Both are open daily from 9 a.m. to 5 p.m. Central Time. Parking is limited so please allow extra time to find a parking space.