Herbert Hoover National Historic Site Announces Summer 2007 Interpretive Program Schedule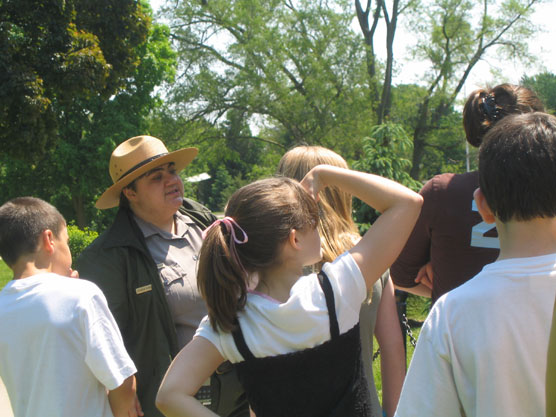 News Release Date:
May 22, 2007
Contact: Adam Prato, (319) 643-7855
Herbert Hoover National Historic Site announces its interpretive program schedule for June 10 through September 3, 2007. "Summer is a great time to visit," said superintendent Cheryl A. Schreier, "We'll be offering a number of enjoyable interpretive programs in 2007."
Grounds Tours leave daily from the Visitor Center at 10:00 a.m., 11:00 a.m., 1:00 p.m., 2:00 p.m., 3:00 p.m. The 45-minute ranger-guided walking tours include the Herbert Hoover Birthplace Cottage, Blacksmith Shop, Schoolhouse, and Friends Meetinghouse. There will be no tours on July 10 and August 4.
Blacksmith Chuck Ping demonstrates his art and craft at the Blacksmith Shop most weeks, Wednesday through Friday from 9:30 a.m. to 2:00 p.m. Handmade blacksmith items are for sale at the Blacksmith Shop and at the Visitor Center. Days and times will vary and may be changed. Please call ahead before you visit.
See Living History this summer on Saturdays, June 23, July 21, August 4, and August 25, and on Monday, September 3. From 10:00 a.m. to 2:00 p.m., living history interpreters demonstrate historic crafts, games, music, school teaching, and other activities from life in 19th century West Branch. Guided living history tours of the historic buildings let you see West Branch through the eyes of an 1879 resident and begin at 10:00 a.m., 11:00 a.m., 12:00 a.m., and 1:00 a.m. (except during Hooverfest on August 4).
Ranger-guided Prairie Walks meet in front of the Presidential Library and Museum on Saturday, July 28 at 10:00 a.m.; Saturday, August 25: 11:00 a.m.; and Monday, September 3 at 1:15 p.m., 2:30 p.m., and 3:30 p.m. The walk is one half-mile and lasts about one hour. Bring water, dress for the weather, and wear comfortable walking shoes.
Painter Diane Kunzler will be the Artist-in-Residence from July 19 through August 4. During her residency at Herbert Hoover National Historic Site Ms. Blair will be available to interact with park visitors while they work. Call ahead for her schedule and program times.
On Friday, August 3, join park rangers for Nature at Night. Meet at the Gravesite parking lot at 8:30 p.m. for a short walk into the prairie at dusk to learn techniques for exploring nature at night. At 9:30, learn to identify objects in the night sky. A telescope will be available or you can bring your own.
This year's Hooverfest is Saturday, August 4 from 10:00 a.m. to 10:00 p.m. Celebrate the birthday of Iowa's only president with an outdoor art show, live music, community events, fishing demonstrations, and children's activities. The evening concludes with fireworks.
Park staff will celebrate National Park Service Founder's Day on Saturday, August 25, by offering guided tours of the site and by showing two videos "Adventure and Great Undertakings: Herbert Hoover's Childhood in West Branch" and "Sacred Land – the story of Effigy Mounds National Monument" throughout the day in the National Park Service visitor center.
Junior Ranger activity booklets will be available at the Visitor Center for children ages 5 to 14. Children can earn Junior Ranger badges by completing the booklet.
Celebrate Prairie Heritage Day on Monday, September 3, 2007 with ranger-led prairie walks and special programs on Laura Ingalls Wilder. National Park Rangers lead walks at 1:15, 2:30 and 3:30 p.m. in the 81-acre tallgrass prairie. Sarah S. Uthoff portrays Laura Ingalls Wilder at 1:30 p.m. and 3:00 p.m. at the Herbert Hoover Presidential Library and Museum.
Herbert Hoover National Historic Site and the Herbert Hoover Presidential Library and Museum are in West Branch, Iowa at exit 254 of I-80. Both are open daily from 9 a.m. to 5 p.m. Central Time.
Last updated: April 10, 2015