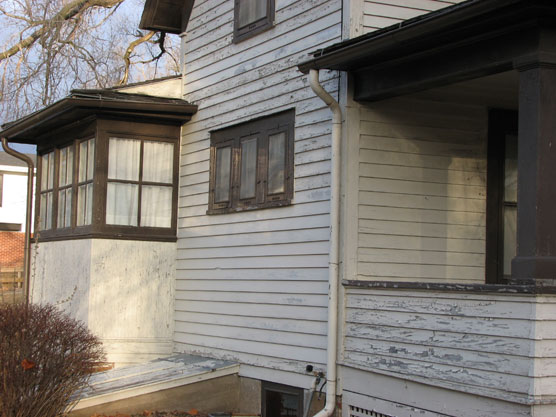 News Release Date:
October 1, 2009
Contact: Adam Prato, (319) 643-7855
WEST BRANCH, IOWA— Rehabilitation of the historic Wright House, one of the restored buildings at Herbert Hoover National Historic Site, will begin in October. "This project is funded by the Recovery Act passed earlier this year," said park superintendent Cheryl A. Schreier.
A contractor will remove the deteriorating lead-based exterior paint to mitigate a hazard to employees and visitors. The lead paint removal is part of an ongoing park-wide abatement project that requires the removal of all layers of deteriorated, peeling, and chipping exterior paint. The building materials under the paint will be repaired as needed before the house exterior is brought back to near original condition.
The restored Wright House is part of the historic neighborhood setting of the Herbert Hoover Birthplace Cottage. William Wright, a West Branch businessman, and his wife Mary were the Hoovers' neighbors during the 1870s when the Hoovers lived in the small, two-room house at the corner of Downey and Penn streets. The Wright House is not open to the public, but is used as housing for seasonal park employees.
Herbert Hoover National Historic Site and the Herbert Hoover Presidential Library and Museum are in West Branch, Iowa at exit 254 off I-80. Both are open daily from 9 a.m. to 5 p.m. Central Time. Parking is limited so please allow extra time to find a parking space.