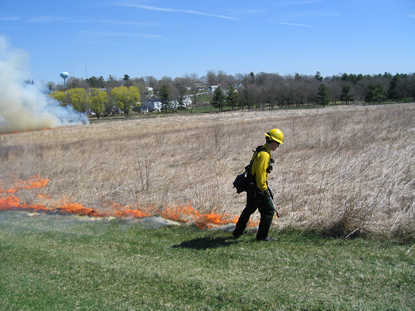 News Release Date:
October 10, 2006
Contact: Adam Prato, (319) 643-7855
Contact: Neil Korsmo, (319) 643-7860
Herbert Hoover National Historic Site will burn 36 acres of the 81-acre tallgrass prairie located on the site. The staff plans to conduct the prescribed fire sometime during the week of October 16 or October 23, 2006.
According to Neil Korsmo, Chief Ranger at Herbert Hoover National Historic Site, "Weather conditions and safety considerations will determine the exact date and time of the fire."
Park personnel last burned the prairie in the spring of 2005, when a specially trained National Park Service fire crew burned nearly half of the prairie with the assistance of the U.S. Fish and Wildlife Service. National Park Service staff follows a scientific prescription for prairie burning called a "burn plan." The burn plan describes the objectives of the fire, the fuel available in the prairie, the size and location of the prescribed burn, and the precise conditions for the fire. Safety considerations and smoke control play important roles in the burn plan. Although, the prescribed fire crew will employ methods that minimize the amount of smoke produced, anyone suffering from asthma, emphysema, or lung disease, and living within one mile of the National Historic Site should contact the park at (319) 643-2541. If they leave their name, address, and telephone number, park staff will notify them in advance of the fire.