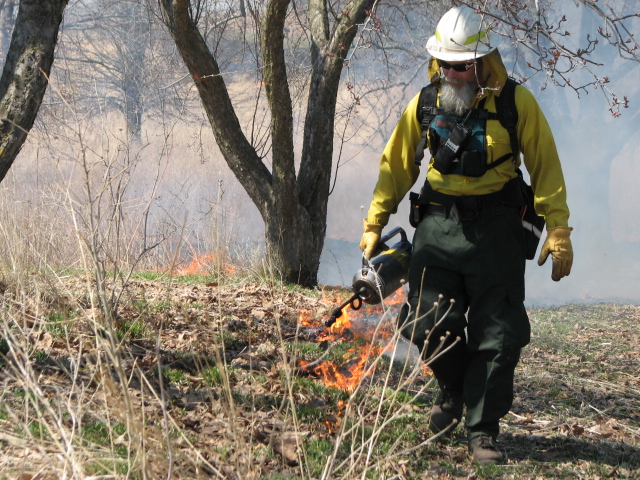 News Release Date:
October 7, 2009
Contact: Adam Prato, (319) 643-7855
Contact: Cheryl Schreier, (319) 643-2541
WEST BRANCH, IOWA— The National Park Service will burn half of the 81-acre tallgrass prairie at Herbert Hoover National Historic Site. The staff plans to conduct the prescribed fire sometime in October or November of 2009. Prescribed fires are the most cost-effective method of maintaining the grassland at Herbert Hoover NHS. With periodic burning, visitors may see over time healthier prairie grasses and a greater diversity of native wildflowers. Weather conditions and safety considerations will determine the exact date and time of the fire. A specially trained National Park Service fire crew burned the other half of the prairie in April of 2009.
The National Park Service follows a scientific prescription for prairie burning. The agency uses a "burn plan" which describes the objectives of the fire, the fuel available in the prairie, the size and location of the prescribed burn, and the precise conditions for the fire. Safety considerations and smoke control play important roles in the burn plan. Although the prescribed fire crew will employ methods that minimize the amount of smoke produced, anyone suffering from asthma, emphysema, or lung disease, and living within one mile of the National Historic Site should contact the park at (319) 643-2541. If they leave their name, address, and telephone number, park staff will notify them in advance of the fire.
Herbert Hoover National Historic Site and the Herbert Hoover Presidential Library and Museum are in West Branch, Iowa at exit 254 of I-80. Both are open daily from 9 a.m. to 5 p.m. Central Time. Parking is limited so please allow extra time to find a parking space.