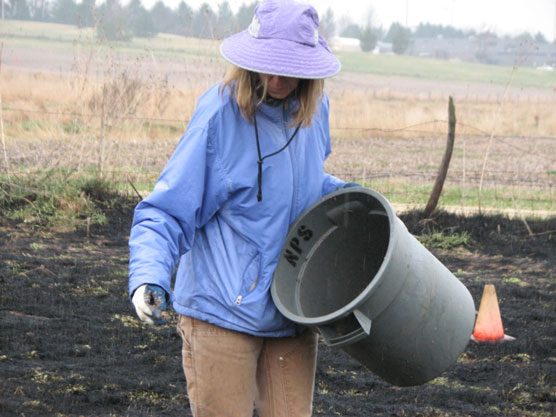 News Release Date:
March 29, 2010
Contact: Adam Prato, (319) 643-7855
Herbert Hoover National Historic Site will begin National Park Week with a spring restoration project in the 81-acre tallgrass prairie. Volunteers are needed on Saturday, April 17 to help remove trees and shrubs from the grassland, or to collect and plant native plant seeds. Volunteers interested in helping at Herbert Hoover National Historic Site on April 17 should contact Adam Prato at (319) 643-7855 by Friday, April 16. Dress for the weather and wear comfortable work clothes. Water, sunscreen, sunglasses, and hats are recommended. Meet at the Visitor Center at 8:30 a.m. for an orientation and to get signed up. Work in the prairie will be from 9:00 a.m. to 12:00 p.m.
National Park Week (April 17-25, 2010) is the annual presidentially proclaimed week for celebration and recognition of your National Parks. Your National Parks are living examples of the best this Nation has to offer—our magnificent natural landscapes and our varied yet interrelated heritage. Parks can provide recreational experiences, opportunities to learn and grow, and places of quiet refuge. This year, take a moment, an hour, or a day to visit the national parks near you.
Herbert Hoover National Historic Site and the Herbert Hoover Presidential Library and Museum are in West Branch, Iowa at exit 254 off I-80. Both are open daily from 9 a.m. to 5 p.m. Central Time. Parking is limited so please allow extra time to find a parking space.