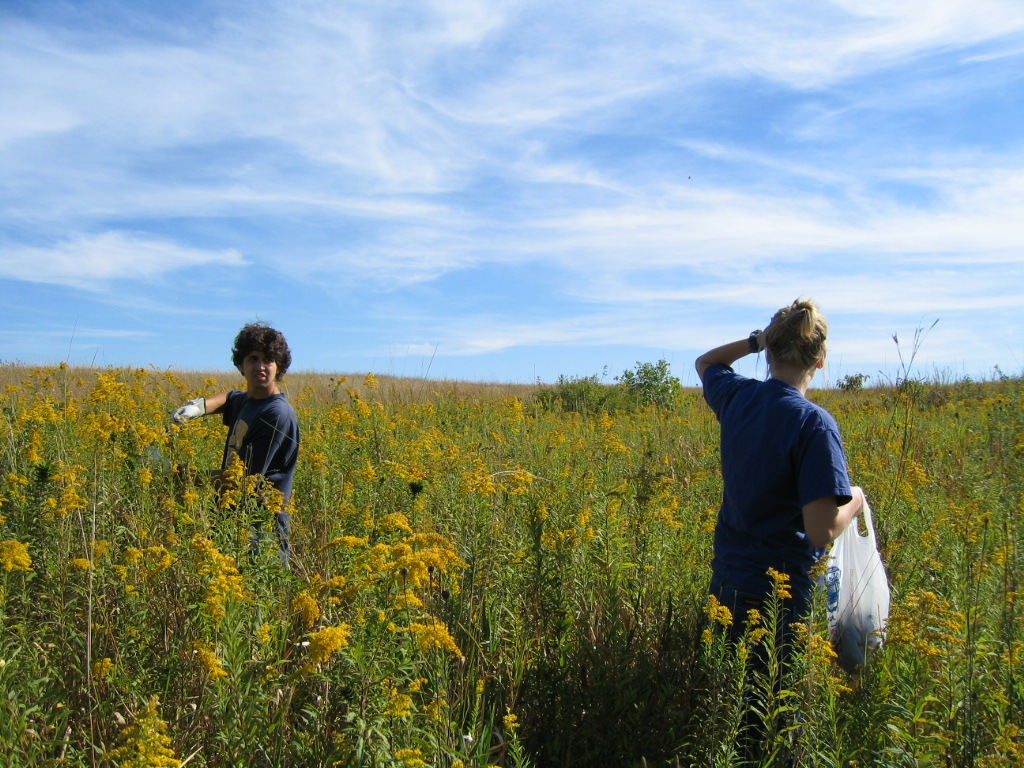 News Release Date:
August 31, 2009
Contact: Adam Prato, (319) 643-7855
WEST BRANCH, IOWA— Restoration of the tallgrass prairie at Herbert Hoover National Historic Site will get a boost as West Branch-area residents join the largest annual coast-to-coast, single-day volunteer effort to improve America's public lands.
As part of the 16th annual National Public Lands Day (NPLD) on Saturday, September 26, local volunteers will roll up their sleeves and devote their day to removing shrubs or collecting native plant seeds from the 81-acre tallgrass prairie at Herbert Hoover National Historic Site. Sponsored for the 11th consecutive year by Toyota Motor Sales, U.S.A., Inc. these national cleanups give Americans a yearly opportunity to make public lands in their communities cleaner, prettier, and safer.
"Last year more than 120,000 volunteers came out to help improve their favorite public places at locations all around the country," said Robb Hampton, director of NPLD. "In 2009 we're expecting to increase turnout by an additional 10,000, making this year's event the biggest National Public Lands Day yet."
At more than 2,000 sites in all 50 states, National Public Lands Day volunteers will clean parks, lakes, streams and beaches, build trails and bridges, remove invasive species and plant native trees and vegetation. Many of this year's events will focus on water and its importance in healthy ecosystems.
National Public Lands Day is a great opportunity for people of all ages to get outside, work alongside their neighbors, and help to improve their community. "Many area residents interested in prairie restoration have lent us a hand in past years," said Cheryl A. Schreier, superintendent of Herbert Hoover National Historic Site, "We're excited about building on their volunteer efforts as we continue to restore the park's native grasslands. Please help us make the national parks—America's Best Idea—even better. Join us for a national day of service and celebration in your 391 national parks."
Volunteers interested in helping at Herbert Hoover National Historic Site on September 26 should contact Adam Prato at (319) 643-7855 by Friday, September 25. Dress for the weather and wear comfortable work clothes. Water, sunscreen, sunglasses, and hats are recommended. Meet at the Visitor Center at 8:30 a.m. for an orientation and to get signed up. Work in the prairie will be from 9:00 a.m. to 12:00 p.m.
Volunteers who participate in National Public Lands Day at Herbert Hoover National Historic Site are rewarded with coupons for free entry into their favorite federal public land areas that have entrance fees. To see a list of NPLD sites, activities, contacts, and downloadable photos from past events visit www.publiclandsday.org.
Herbert Hoover National Historic Site and the Herbert Hoover Presidential Library and Museum are in West Branch, Iowa at exit 254 off I-80. Both are open daily from 9 a.m. to 5 p.m. Central Time. Parking is limited so please allow extra time to find a parking space.