Hooverfest Honors Military Service and Celebrates Iowa's Treasures on August 1, 2009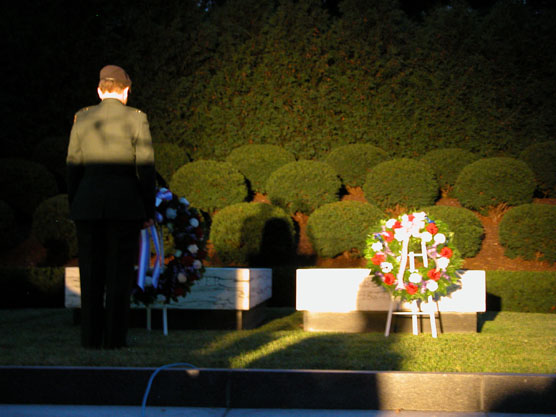 News Release Date:
July 16, 2009
Contact: Adam Prato, (319) 643-7855
WEST BRANCH, IOWA—Hooverfest, the annual celebration of Herbert Hoover's birth, takes place on Saturday, August 1 at Herbert Hoover National Historic Site in West Branch, just east of Iowa City at exit 254 off I-80. Hoover was the only Iowan elected to our nation's presidency. He was born on August 10, 1874 in the cottage which is now the centerpiece of the historic site. He and his wife, Waterloo native Lou Henry Hoover, are buried near his birthplace.
Admission will be free to all events and buildings, including the Hoover Presidential Library-Museum and its temporary exhibit "Iowa A-Z". On-site parking will be limited but visitors may park for free at West Branch High School, about two-thirds of a mile from the historic site. A free shuttle will transport visitors to and from the high school parking lot. Please allow extra time to find a parking space. Visitors are encouraged to bring lawn chairs and stay all day.
This year's Hooverfest honors our veterans and service men and women in the military. Margaret Hoover, great-granddaughter of President Hoover and national political commentator, will speak during a noon Honor Flag ceremony at "The Moving Wall," the half-size replica of the Vietnam Veterans Memorial in Washington, D.C. on display at the park from July 30 through August 2.
Daytime highlights will include "Iowa's Treasures A-Z": 100 exhibitors from attractions around Iowa who will show off the state's beauty and wonder from 12:00 p.m. to 7:00 p.m. Vendors will sell food, arts, and crafts. Children may participate in the Junior Ranger Program and in hands-on living history demonstrations. Afternoon entertainment by the Celebration Iowa Singers and Jazz Band will begin at 3:30 p.m. near the Hoover Museum. Free birthday cake will be served at the beginning of the performance.
Teams will play in the 22nd annual Hooverball National Championships from 9:00 a.m. until 7:00 p.m. on courts adjacent to the National Historic Site and close to all Hooverfest activities. White House physician Admiral Joel T. Boone invented Hoover-ball to keep Hoover physically fit. It is an exciting combination of tennis, volleyball, and medicine ball. Spectators are welcome. A registration fee is required for participation.
The evening program, a tribute to U.S. veterans and the U.S. military, begins at 7:30 p.m. in the grassy loop area behind the library-museum and includes the "Noteables" Air Force Jazz Band, a message from the White House honoring Herbert Hoover, and fabulous fireworks set to patriotic music. Margaret Hoover, great-granddaughter of President Hoover, is the emcee.
For more information about Hooverfest, visit www.hooverassociation.org or call (319) 643-5327. Hooverfest is produced with private donations by the Herbert Hoover Presidential Library Association, a nonprofit support group for the Herbert Hoover Presidential Library-Museum and National Historic Site in West Branch, Iowa.
Hooverfest 2009 schedule (PDF file, 25 KB)
Last updated: April 10, 2015