Fishing and Hooverball Featured at This Year's Hooverfest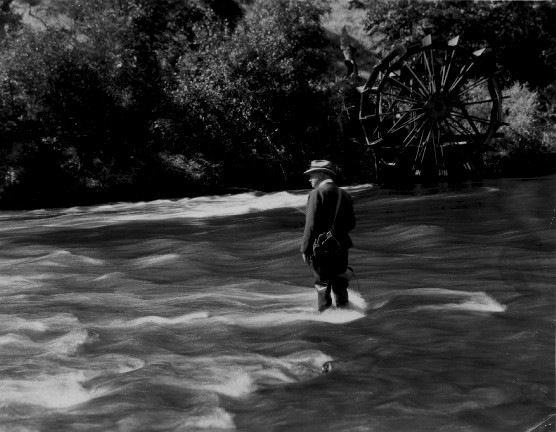 News Release Date:
June 28, 2007
Contact: Adam Prato, (319) 643-7855
Contact: Bonnie Blaford, (319) 643-7866
Contact: Stacy Diemer, (319) 643-5327
The annual Hooverfest celebration takes place on Saturday, August 4th in West Branch, just east of Iowa City, at I-80, exit 254. The one-day event commemorates the birth of Herbert Hoover, the only Iowan ever elected to our nation's presidency.
This year, Hoover-related sports play a major role in the celebration.
Fishing
Herbert Hoover's lifelong love of fishing began in the Wapsinonoc Creek in West Branch. Having fished in many venues, he later wrote Fishing for Fun and to Wash the Soul and declared that "all men are equal before fish."
When: Saturday, August 4, 10:00 a.m. to 4:00 p.m.
Where: Village Green in West Branch, near the West Branch Fire Station
What: The following agencies are collaborating to provide free hands-on activities for all ages.
For more information, see the attachment, visit www.hooverassociation.org, or contact Bonnie Blaford at (319) 643-7866.
Lake Macbride Fisheries Station, Iowa Department of Natural Resources (DNR)
Mississippi River Museum, Dubuque, Iowa
Johnson and Cedar County Conservation Boards
U.S. Geological Survey
IOWATER Volunteer Water Monitors
Army Corps of Engineers from Coralville Lake
The University of Iowa Natural History Museum
Hawkeye Fly Fishing Association
The Coast Guard Auxiliary Flotilla 87
Iowa Women in Outdoor Sports
Hooverball National Championships
When: Saturday, August 4, 9:00 a .m. to 7:00 p.m., for the men's and women's four-pound competition and Sunday, August 5, time to be determined, for the men's six-pound competition
Where: Beranek Park, behind the Lutheran Church on South Second Street Participation Fee: $40 per team by July 20 and $60 per team after that date
What: Hooverball was once the most popular sport at the White House and played by President Herbert Hoover, Supreme Court Justices, Cabinet members, and other government officials. White House physician Admiral Joel T. Boone invented Hooverball, which is played on a volleyball court with a medicine ball, and is scored like tennis, to help keep President Hoover fit. The game fell into oblivion when Hoover's term ended in 1933.
However, the Hooverball National Championships are now in their 20th year in West Branch, allowing Hooverfest visitors to watch a physically demanding sport. For more information, contact Stacy Diemer at (319) 643-5327 or visit www.hooverassociation.org.
Hooverfest
Admission is free. In addition to sports activities, arts, crafts, food vendors, and entertainment are located on the Hoover National Historic Site and in downtown West Branch. An evening outdoor service pays tribute to Iowa's fallen heroes in the War on Terror. Honored guests are the Iowa National Guard, the American Legion, and the families of the Iowa heroes. Patriotic music and fireworks follow a video tribute.
For more information about Hooverfest, visit www.hooverassociation.org or call (319) 643-5327. Herbert Hoover National Historic Site and the Herbert Hoover Presidential Library and Museum are in West Branch, Iowa at exit 254 of I-80. Both are open daily from 9 a.m. to 5 p.m. Central Time. Parking is limited so please allow extra time to find a parking space.
Last updated: April 10, 2015