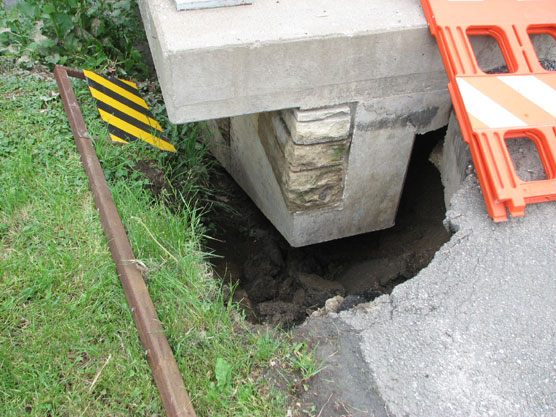 News Release Date:
June 6, 2008
Contact: Adam Prato, (319) 643-7855
WEST BRANCH, IOWA— On June 23, 2008, bridge repair will begin on Parkside Drive and Second Street. The 100-day project will be completed by September 30, 2008. The $381,000 project, headed by the Federal Highways Administration in partnership with Herbert Hoover National Historic Site, will repair the bridges' roadways and address erosion problems by the Parkside Drive bridge. "No one likes road construction," said National Historic Site Superintendent Cheryl A. Schreier. "However, it will be great when we complete this project."
The bridge over Hoover Creek on Parkside Drive will be first. Traffic will be down to one lane with traffic signals to assist with traffic control while construction crews repair the roadway and build new drains on the south end of the bridge. Work on the Second Street bridge over the creek may involve some short partial closures.
The Water Street Parking Lot between Parkside Drive and Second Street will be closed for use by the contractor as a staging area. The Visitor Center parking lot will be open for park visitors. Commuters will need to find alternate parking. The Second Street lot across from the West Branch Fire Department is open for parking. Commuters should not park in the existing parking area that serves Mercy Clinic or Bethany Lutheran Church.
No work will be done on Sundays, major federal holidays (such as Independence Day on Friday, July 4 or Labor Day on Monday, September 1) or during special events (Hooverfest on Saturday, August 2, and the Constitution Day Naturalization Ceremony on Wednesday, September 17).
Herbert Hoover National Historic Site and the Herbert Hoover Presidential Library and Museum are in West Branch, Iowa at exit 254 of I-80. Both are open daily from 9 a.m. to 5 p.m. Central Time. Parking is limited so please allow extra time to find a parking space.