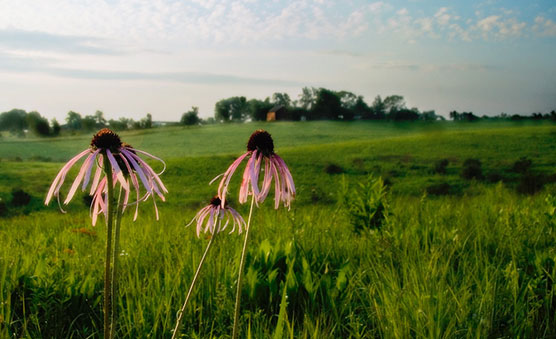 News Release Date:
October 2, 2008
Contact: Adam Prato, (319) 643-7855
WEST BRANCH, IOWA— Herbert Hoover National Historic Site seeks writers, composers, and visual and performing artists for the park's 2009 Artist-in-Residence program. The Artist-in-Residence program is open to all professional American artists whose work can be inspired by the history and beauty of Herbert Hoover National Historic Site. The park offers two residencies each of two to four weeks from May through September. For more information about the Artist-in-Residence Program and how to apply, contact Adam Prato at (319) 643-7855.
The 2008 Artist-in-Residence program featured photographer Linda Staats and radio dramatist Will Anderson. Each artist donated artwork created during their residencies this summer. Ms. Staats' photograph "First Light on the Prairie" is on display at the Visitor Center along with works from past Artists-in-Residence. Dr. Anderson's radio drama script "The Son of West Branch, America's Great Humanitarian" is available on the park's website. The script is in the public domain and may be used for production. Please contact Adam Prato at (319) 643-7855 if you are interested in producing it.
Herbert Hoover National Historic Site and the Herbert Hoover Presidential Library and Museum are in West Branch, Iowa at exit 254 of I-80. Both are open daily from 9 a.m. to 5 p.m. Central Time. Parking is limited so please allow extra time to find a parking space.