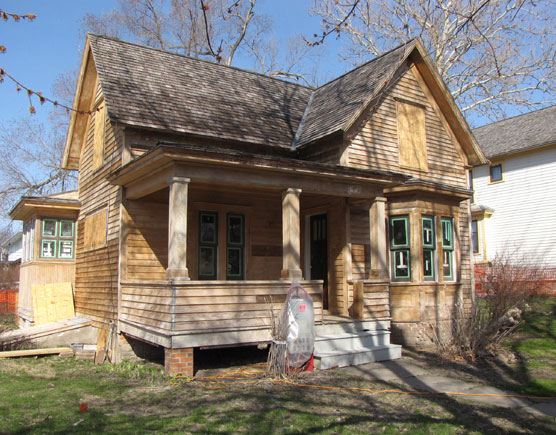 News Release Date:
March 29, 2010
Contact: Adam Prato, (319) 643-7855
WEST BRANCH, IOWA— Lead paint abatement at three historic buildings at Herbert Hoover National Historic Site will be completed this spring. Last fall a construction contractor removed the deteriorating exterior paint to mitigate lead-based paint hazards to employees and visitors. The contractor will resume work once the weather is warm and dry enough to paint. "Our visitors expect to find the highest quality of historic preservation services in their national parks," said park Facility Manager Mark Denker. "Waiting for the right working conditions will allow us to meet that expectation."
The lead paint removal at the historic Wright, Isaac Miles, and Dr. Leech houses is part of a continuing park-wide abatement project to remove all layers of deteriorating, peeling, and chipping exterior paint from all buildings. Another construction contractor will begin renovating the interiors of the Isaac Miles and Dr. Leech houses on April 12.
The restored Wright, Isaac Miles, and Dr. Leech houses are not open to the public but are part of the historic setting of the Herbert Hoover Birthplace Cottage. The Wright and Isaac Miles houses are used as housing for seasonal park employees, while the Dr. Leech House serves as park offices.
Herbert Hoover National Historic Site and the Herbert Hoover Presidential Library and Museum are in West Branch, Iowa at exit 254 off I-80. Both are open daily from 9 a.m. to 5 p.m. Central Time. Parking is limited so please allow extra time to find a parking space.