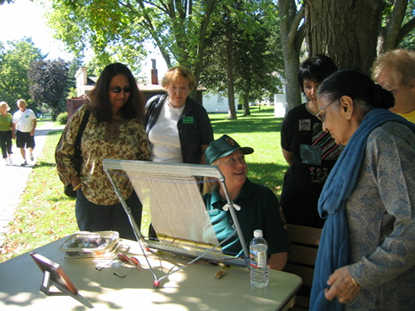 News Release Date:
October 13, 2006
Contact: Adam Prato, (319) 643-7855
Herbert Hoover National Historic Site seeks sculptors, writers, photographers, painters, composers, and other artists to apply their talents to the site's 2007 Artist-in-Residence program. The Artist-in-Residence program is sponsored by the National Park Service and is open to artists whose work can be inspired by the history and beauty of Herbert Hoover National Historic Site. The site is in West Branch, Iowa and contains the birthplace of the 31st President, several historic buildings associated with his early life, and the gravesites of President and Mrs. Hoover. The Herbert Hoover Presidential Library and Museum is also on the site, along with an 81-acre tallgrass prairie. Historic downtown West Branch is adjacent to the site.
The 2006 Artist-in-Residence program featured hand-woven tapestry maker Karen Page Crislip of Estes Park, Colorado. Ms. Crislip demonstrated tapestry weaving to the public during her two-and-a-half week residency this September. She will also donate one of her new tapestries inspired by the National Historic Site.
Artists wishing to apply to the program should contact the site to obtain an application. Write to Artist-in-Residence Program, Herbert Hoover National Historic Site, P.O. Box 607, West Branch, Iowa 52358; call (319) 643-7855; or e-mail. Applications for the program must be post-marked or delivered to the park between November 1, 2006 and March 2, 2007.