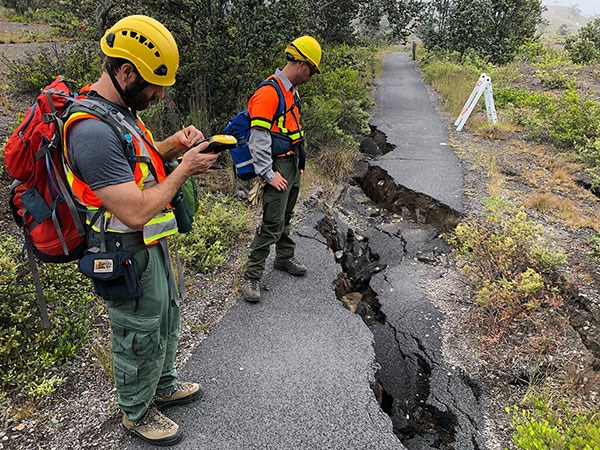 Recovery
Most of Hawai'i Volcanoes National Park closed on May 11, 2018 due to increased volcanic and seismic activity of Kīlauea volcano. Over the next twelve weeks large lava flows covered land southeast of the park destroying over 700 homes and devastating residential areas in the Puna District. At the same time, the summit area of the park was dramatically changed by tens of thousands of earthquakes, towering ash plumes, and 62 massive collapse explosions. The events caused profound damage to park infrastructure unprecedented in the park's 102 year history including building damage, rock falls, deep cracks in roads and trails, and numerous breaks to water and sewer lines. The last collapse explosion occurred on August 2. During this lull in volcanic activity the park is making emergency repairs that will allow employees to return to the park. Since that time, park staff responded to two powerful hurricanes, a tropical storm and a dangerous wildland fire that burned over 3,700 acres.
Stages of Recovery
On August 21, Superintendent Cindy Orlando announced the goal of opening some closed areas by September 22. Visitors should expect limited hours, limited visitor services and limited access to previously popular areas. Over the coming months the park will take the following steps:
Damage assessments – the park has formed a professional damage assessment team including geomorphologists, civil and structural engineers, cultural and natural resource specialists, and others. Roads, buildings, waterlines and other infrastructure will be inspected and assessed to determine complete repair needs and costs.
Planning and prioritization – damage assessments will identify immediate repair needs as well as larger, more long term and complex repairs that will need to be made and likely cost millions of dollars. This will form the basis of the park recovery and related funding strategy. The park will prioritize repairs that can be made by existing park staff and resources to safely open areas as quickly as possible while planning for longer term repair needs. Planning decisions such as the decision to rebuild certain roads and facilities will be guided by the park General Management Plan (pdf 82.7MB).
Immediate repairs – after the assessments, park staff will complete repairs needed to safely reopen areas of the park, especially waterlines, roads, and key buildings such as the Kīlauea Visitor Center.
Reopening – following damage assessments and essential repairs, the park will open limited areas and facilities to the public. Other areas will be opened in subsequent phases as additional repairs are completed.
Recovery – longer term recovery will continue after reopening. Depending on available funding and ground stability, some areas such as the Jaggar Museum, sections of Crater Rim Drive, and trails in and around the Kīlauea summit crater may remain closed for years, relocated, or not reopened.
Latest Updates
August 21: Superintendent Cindy Orlando announced the park has set a goal of reopening some closed areas by September 22.
August 22: a National Park Service geomorphology team began evaluating seismic stability of areas damaged or potentially weakened by earthquakes. Results will determine where it will be safe for visitors to go.
On the afternoon of August 22, the park temporarily paused recovery efforts in preparation for Hurricane Lane.
August 24: the geomorphology team resumed park assessments.
August 27: assessments continue as a park interdiciplinary team met to review initial findings and prepare reopening plans.
August 28: non-potable water has been restored to nine park buildings including the visitor center. 17 park buildings have been inspected for earthquake damage. Water has not yet been restored to the Volcano House and the entire park water system remains unsafe to drink.
August 29: 32 park buildings have been inspected for earthquake damage. The geomorphology team completed an initial interior inspection of Nāhuku - Thurston Lava Tube. Further assessments with LIDAR scanning are needed to determine if the lava tube is safe to reopen.
August 30: a community "Talk Story" event about the future of Hawai'i Volcanoes National Park was held at 10 a.m. at the Kahuku Unit.
September 4: assessments continue and the park interdiciplinary team met for reopening planning. Briefings for current commerical guides and tour companies were scheduled for September 13 and 14.
September 5: the park announced a partnership with Mainstreet Pahoa Association and ongoing discussions to loan exhibit features from Jaggar Museum to a proposed visitor center site in downtown Pahoa.
September 6: non-potable water was restored to the Volcano House.
September 9: non-potable water restored to 12 buildings. 54 buildings have been inspected for earthquake damage. 29 miles of trail have been evaluated for safety concerns and damage repair needs. Additional National Park Service assessment teams arrived to document earthquake damage and make damage repair estimates.
September 10: inspections of sewage lines at Kīlauea Visitor Center were completed finding no damage and the most critical public restrooms in the park are now determined to be safe for use.
September 11: a Federal Highways Administration team began assessing earthquake damage on park roads and making emergency repairs.
September 12: 8 out of 43 building sepetic systems have been inspected and determined safe for use. As press release listed critical safety concerns for visitors.
September 13: two orientation briefings were held with permitted commercial tour guides at the Kīlauea visitor center to review new park conditions, limited parking challenges, and what areas and facilities would be open.
September 14: two more orientation briefings were held with permitted commercial tour guides at the Kīlauea visitor center. A team including inspectors with the Emergency Relief of Federal Roads and Trails of the Federal Highways Administration presented their findings after spending the week assessing the park.
September 17: an interdiciplinary park team met to review final plans for the park reopening on Saturday September 20.
September 18: 149 out of 184 park buildings and structures have been inspected for earthquake damage. 26 out of the 42 wastewater systems in the park have also been inspected.
September 20: the park inderdiciplinary team met with facility experts and a structural engineer to review initial assessments of park buildings damaged by earthquakes. Several assessment teams will submit detailed reports in the coming weeks to help park managers plan for long term recovery.
September 21: the park water system was inspected and certified to be potable (safe to drink) by Hawai'i state authorities.
September 22: the park partially reopens - press release.
October 5: Mauna Loa Road and Mauna Loa backcountry are scheduled to reopen Monday, October 8, 2018 (Discoverer's Day).
October 8: Mauna Loa Road and Mauna Loa backcountry reopened.
October 19: Coastal backcountry reopened - press release.
Hilina Pali Road is open to vehicle traffic to Kulanaokuaiki campground and is open to foot traffic beyond to the overlook.
October 25: Dinner service resumes at the Volcano House restaurant, The Rim.
October 26: The Volcano House breakfast, lunch and dinner service resumed at The Rim, and Uncle George's Lounge resumed its bar menu service - press release.
November 23: The Ka'ū Desert Trail from Highway 11 to Mauna Iki Trail, to the Mauna Iki Trailhead near Kulanaokuaiki Campground (8.8 miles of trail), re-opened to the public. Due to large amounts of volcanic ash on this section of trail, everyone is strongly advised to bring protective eye wear and an N95 dust mask or better if attempting this hike. People with respiratory illness and young children should avoid this trail when ash is present.
November 23: Crater Rim Trail, from the trailhead at Chain of Craters Road, to the south rim of Keanakāko'i Crater (approximately one mile), re-opened to the public.
November 23: The portion of Crater Rim Drive between Keanakāko'i Crater and Halema'uma'u Crater, extended the open area of road several hundred feet to the second large earthquake fracture. This section of Crater Rim Drive remains open to pedestrians and bicyclists only and is not open to vehicle use.
February 19, 2019: Hawai'i Volcanoes National Park reopens two trails and Mauna Loa Road - press release