Hike Journal - Nāpau Trail to Nāpau Crater
Submitted by Paul Peh
Hikers: Paul & Rosemary Peh
Start Date and Time: July 4th, 2015 at 7.30 am
Distance of the hike including return: 13.4 miles
Duration of hike including stops: 7 hours 15 mins
Elevation gain: 2388 feet
Difficulty Level: Moderate
Equipment: Sturdy hiking shoes , 3.5 liters of water per person, light snacks (cliff bars, sushi rolls, chi chi mochi), sun protection, hat and cooling towels.
It was already considered a late start at 7:30 am in the morning. The sun was already relatively high with sunrise starting at about 5:30 am. It took us a bit of time to fuel up and to get going as we knew we needed the energy for the long hike ahead.
The drive down Chain of Craters Road from the park entrance to the trail head was nothing short of a welcoming respite of cool and fresh mountain air. After donning our packs, we made our way to the check in station at the start of the trail. After signing in, we made haste towards Pu'u Huluhulu, also known as the Hairy Hill. I guess from afar when looking at the it against Mauna Ulu, it actually does look like a "hairy hill" due it the vegetation that is now growing on this pu'u.
The cool air interspersed with a light shower was much to our delight as we trudged across the smooth pāhoehoe (smooth) lava, created by the 1974 flow of Mauna Ulu. The trail is clearly marked by rock cairns (ahu) and some even have modern reflectors on them to guide those intrepid night hikers!
There are many native plants like 'ōhi'a, kupukupu, 'ōhelo, pukiawe, and young red ferns called 'ama'u along the way, so do keep a lookout for them.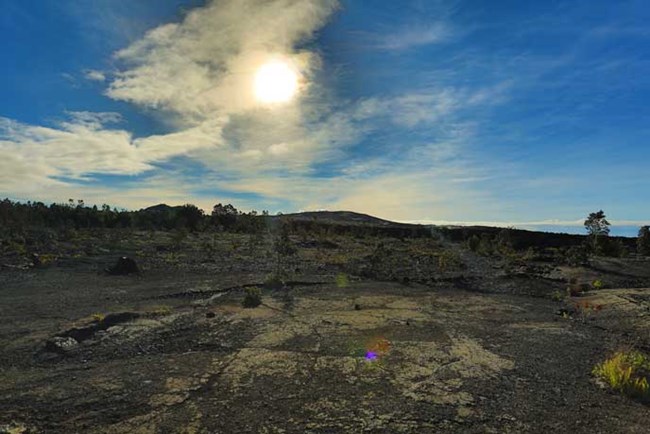 The first 15-20 minutes of the trail is very flat and easy going. Besides the photo taking opportunity of native plants, you will also have an expansive view of Mauna Loa (Long Mountain) and Mauna Kea (White Mountain) in the distance.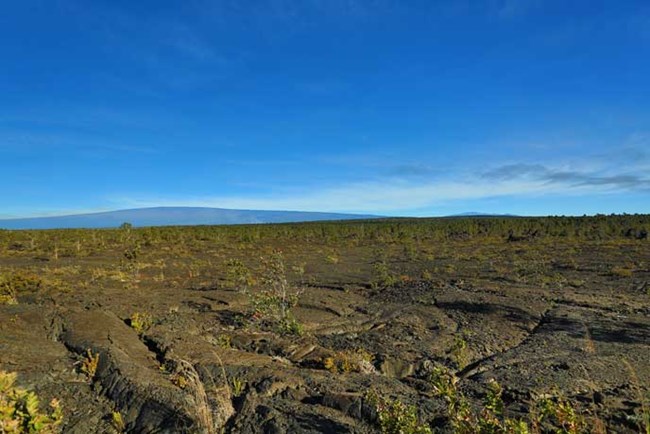 As we judiciously followed the
ahu
across the lava field –trying not to disturb our surroundings, we came across some lava trees and huge rocks (ejectas) strewn across a vast field of old lava. Once past this, we entered into a
kīpuka
section with a dense forest of 'ō
hi'a
trees. The tree eater seems to miss consuming these hapless colonizers as it made its fiery way around them. Madame Pele might not be a heartless as once thought.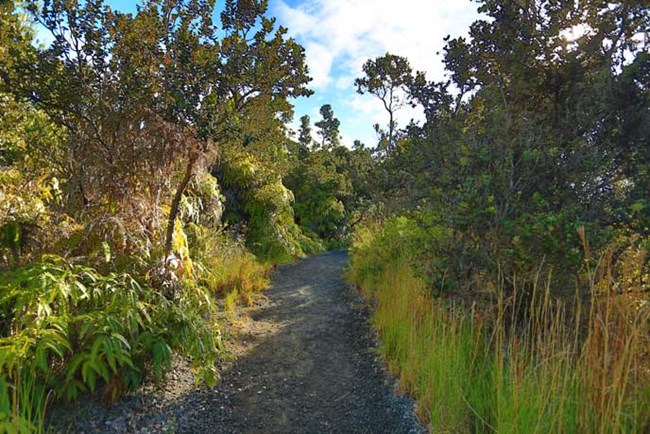 We took this time for a short water break and admired the little pom pom flowers known as 'ō
hi'a lehua;
endemic to Hawaii. Rumor has it that if you break off the stem of the flowers, it will start to rain. To play it safe, it's best not too touch any of these plants.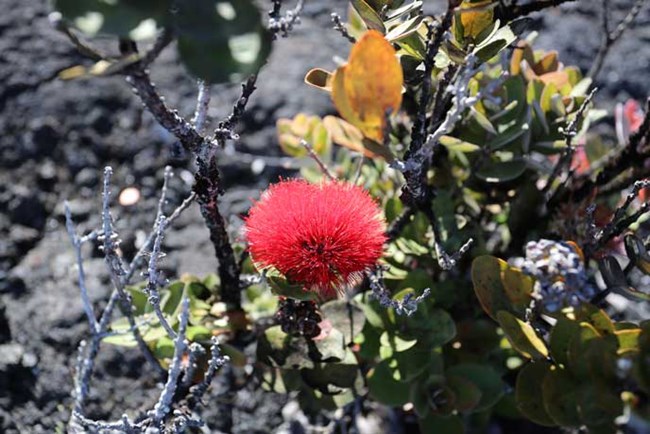 Once we reached the area in between Pu'u Huluhulu and Mauna Ulu, we decided not to hike up the side trail to Pu'u Huluhulu, even though it boasts of one of the best lookout spots in the Hawaii Volcanoes National Park (HVNP). A trip left for another time. We did hear faint voices coming from the vicinity of the pu'u interspersed with the sound of chirping of birds and the occasional wind rustling the leaves.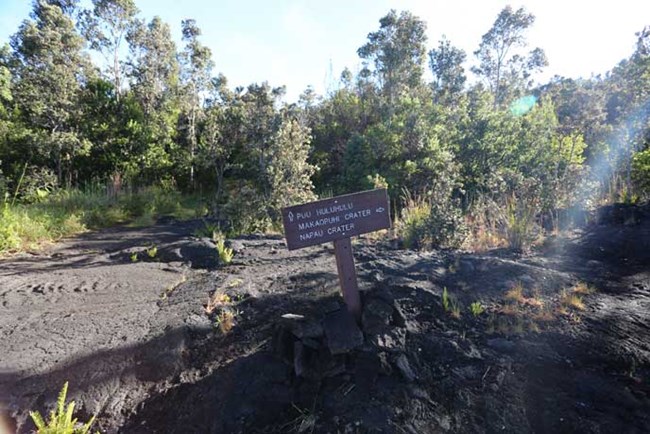 We continue on the Napau Trail, contouring by the right side of Pu'u Huluhulu with Mauna Ulu on our right. There is a slight gain and then a slight descent across a vast field of lava flow. Since it was still early in the morning, the coolness of the air prevented us from breaking a sweat but we could imagine what it would be like on the way back under the mid-afternoon sun! At this point, we could see as far as to Pu'u 'Ō'ō and we also spotted some weather equipment up on Mauna Ulu.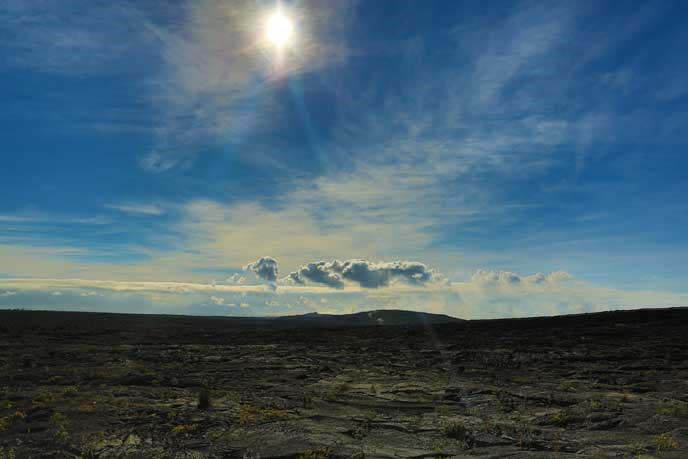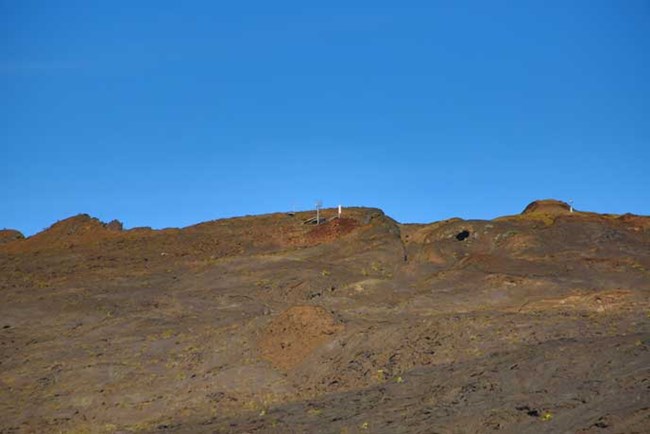 With the rising sun glaring straight at us in this open windswept section, we peeled our eyes as wide as we could afford too in hope of not losing sight of each ahu as they guide us along the way, inching closer and closer to our next destination –Makaopuhi (eye of the eel) crater;the largest pit crater on Kilauea's east rift zone. Although not difficult, it does take a little getting use to spotting the ahu, since at a glance the ahu blends into the landscape that looks pretty much the same.
While making our way past this monotonous looking terrain, it is not entirely devoid of living things. You can see small 'ōhi'a plants and ferns recolonizing, and diligently retaking back the barren land. Take the time to note the geological differences in smooth lava, driblets, hornitos and other interesting formations. Many are quite unique.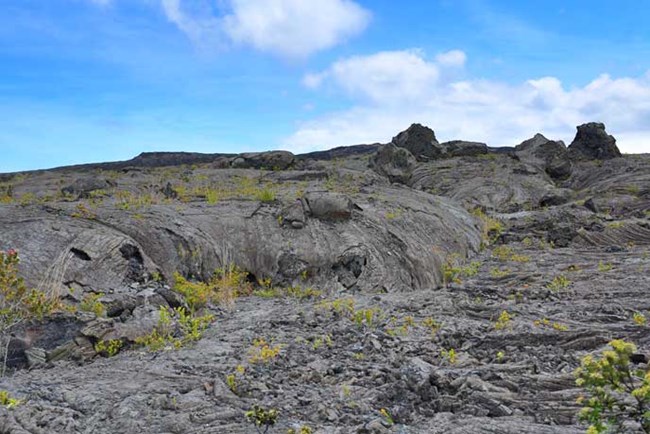 The elevation at this point is slightly over 3,000 feet. We passed several steam vents and smaller craters that could prove to be deadly if one were to fall into them. In less than 2 hours (9.06 am), we had our first glimpse of Makaopuhi crater rim. The bulk of the rim or the hill on its northern flank is called Kane Nui O Hamo. This hill (it is actually a shield volcano) was very obvious from afar and was displaying a good stream of steam from its flanks. A good reminder that the earth we were standing on was very much alive and still forming.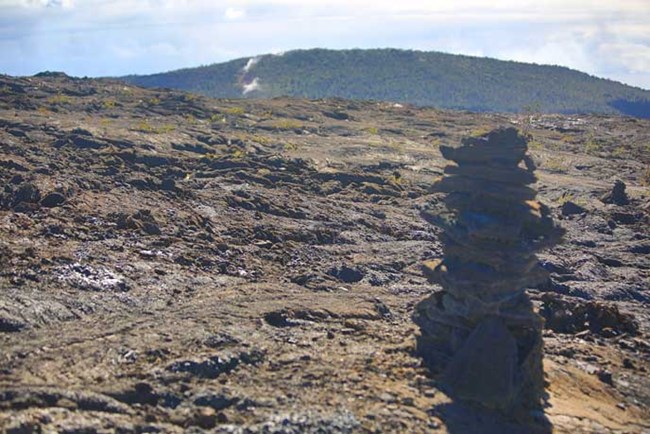 The Nāpau trail starts to lose some altitude but very gradually from this point on. As we made our way towards Makaopuhi, the excitement is starting to build. So, we "amped" up our pace in high anticipation of seeing the largest crater we have ever laid eyes upon for the very first time.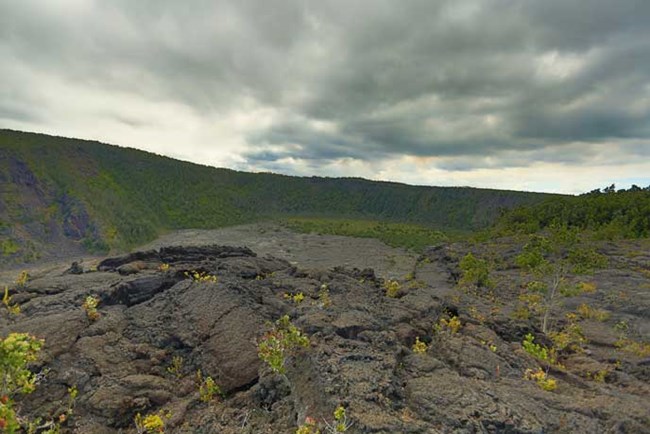 The view definitely did not disappoint, to say the least. The first impression is just the scale of how big it is. As we tried to find a suitable spot to capture this elliptical behemoth while trying not to get scratched up by this uneven craggy terrain of sorts, we finally came to terms that our wide angle lens just wasn't wide enough!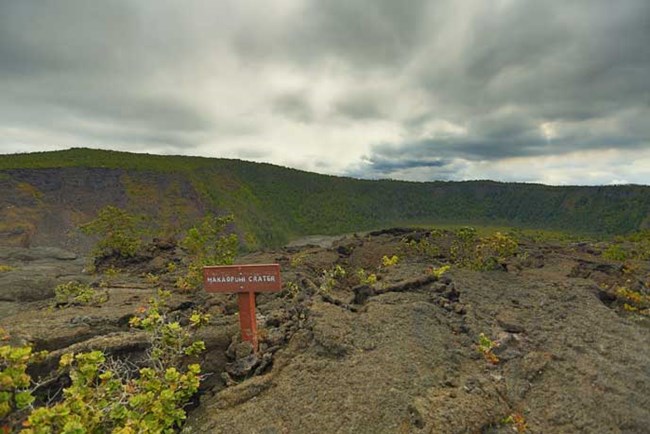 Feeling chagrined but not battered, we coaxed ourselves to move further down the trail in hope of a better complete angle. So off we went. We followed the edge of the rim to the right only to find that the openness and bareness had abruptly left us and a well manicured path had came into being. To add to our delight, there was also slight cool breeze rustling through the trees coming from the north. It was a welcomed respite for the hot and open lava field.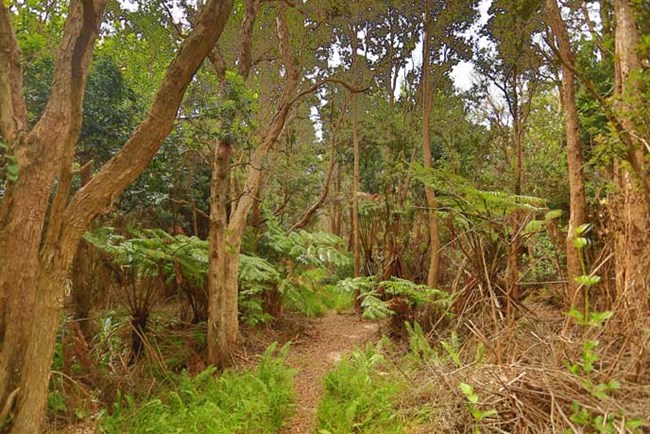 Thus, the second half of our sojourn begins. We both agreed that this is the finest portion of the entire Nāpau trail. As we took shade from the green canopies of
'ōhi'as
and giant
hāpu'u
ferns, we kept an eye out for a suitable spot to capture an image of Makaopuhi in all its grandeur. That spot came much sooner than we thought. There are a couple of these along the way, but be careful as it is a sheer drop from the edge. Alas, an angle that allows us to capture the essence of the crater! One item of note… compared to older pictures of the crater, we can see that vegetation has begun to steadily creep across the crater floor towards its north end and the sub crater within the crater floor has all but disappeared!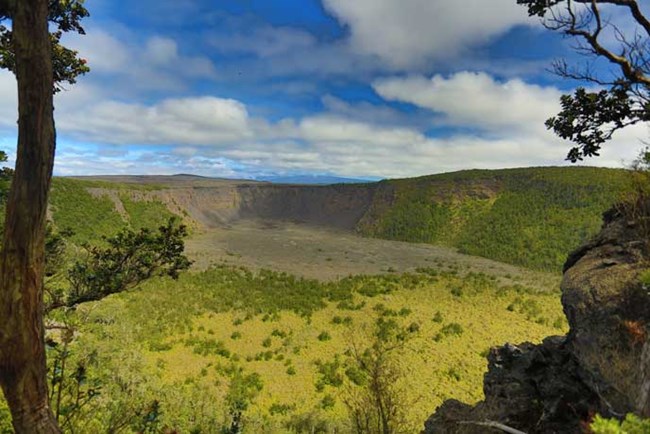 At about 9:30 am, we arrived at the junction of Nāulu trail, which would take one down to Kealakomo overlook along the Chain of Craters Road. Yet another hike for another day. This time we kept on the Nāpau trail.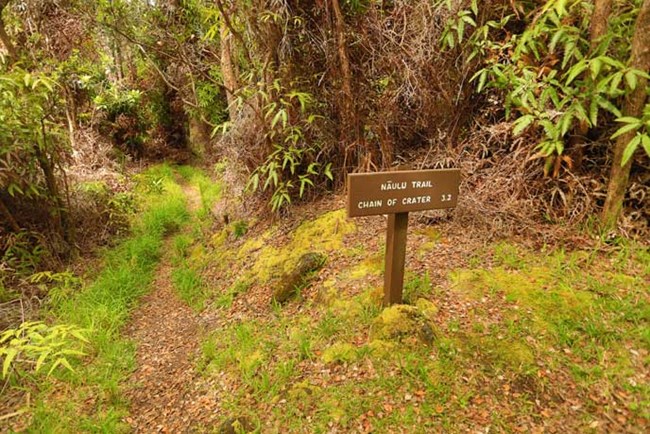 Much to our surprise, on the southern most end of the crater lies a geodetic marker. Of course this meant that we had to take a customary photo of it with our shoes. Unfortunately, much of the markings has since worn off.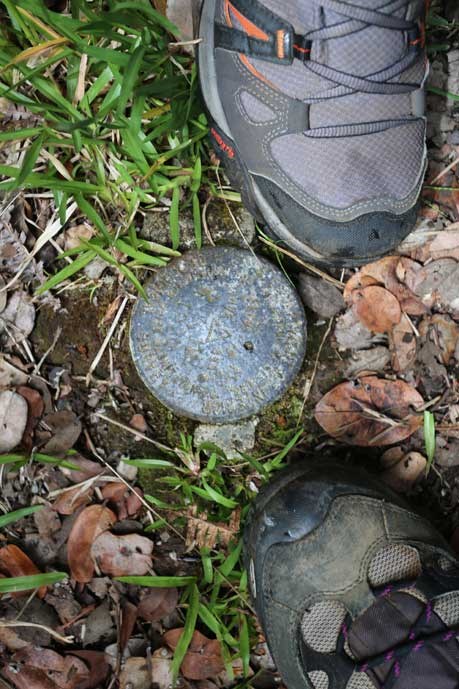 As we continued along the crater rim, we came across a pair of backpackers who had camped at the Nāpau crater campsite the night before. We exchanged the usual pleasantries and continued on our way. If you look carefully along the way, you will see a warning sign warning discouraging one from getting too close to the crater's edge. With the high possibility of landslides and unstable precipices, the edge may give way at any moment without fair warning. Take heed of the warnings.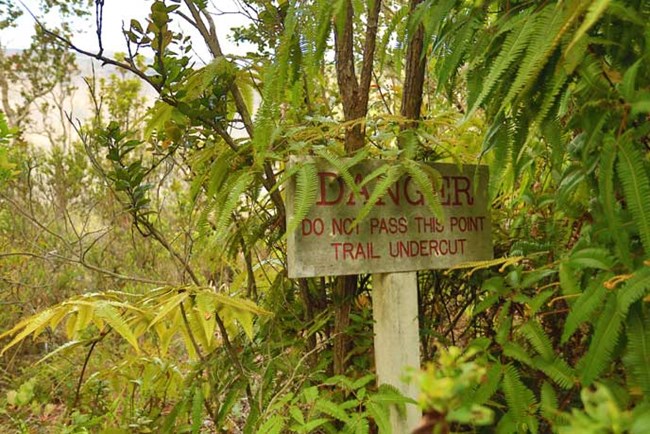 Soon enough, we finally leave the crater behind and start to cross more lava sections interspersed with uluhes (ferns). The trail seemed to lose some elevation as we felt the air thicken with humidity. The trail also starts to get a little hairier with uluhes closing in from both sides. This is when most people wished that they had worn long pants and sleeves for protection from these scratchy uluhe ferns. Our pace slowed a little as we battle our way through the uluhe overgrowth.
At about 10:09, we came to the Pulu Factory. No, its not a pit stop where you can get a nice cold granita or a warm plate of pasta. To our surprise, this was an old factory that made pillow stuffing gathered from the brown fibers of the hāpu'u fern. It made sense for such a factory here, since there are many hāpu'us in the area. However, we wondered how they actually shipped from this remote location.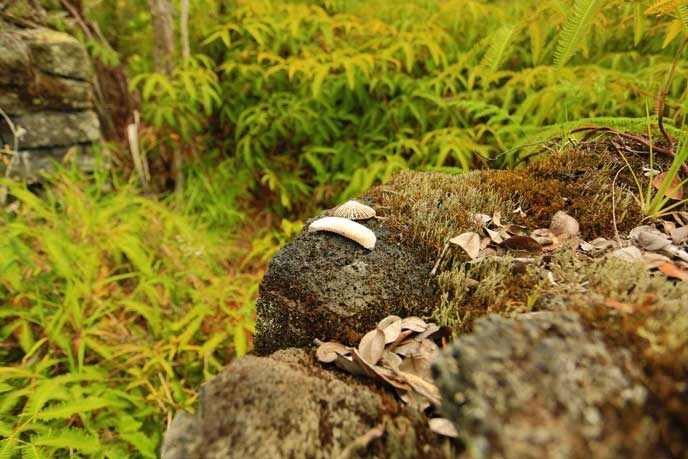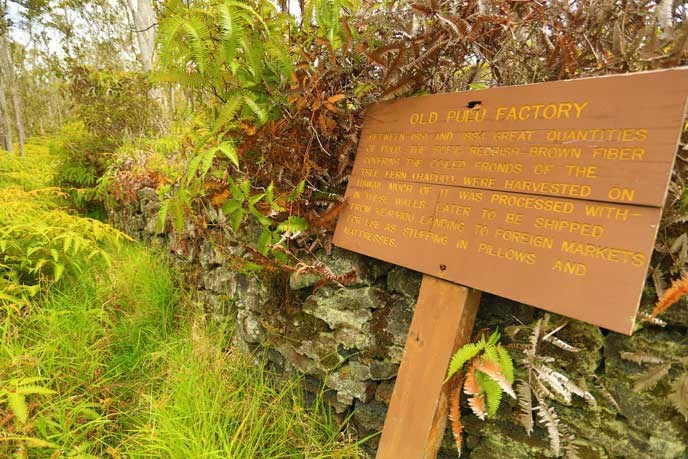 After passing several more lava flows, we came to a fork. The sign clearly states left goes to a campsite while the other, an overlook. We hurriedly made our way towards the end of the overlook trail, hoping for an unobstructed view of Nāpau crater.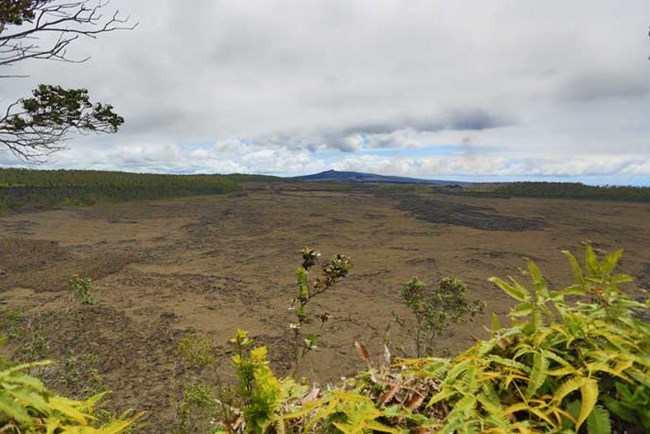 At 10:37 a.m. or slightly over 2 hours, we finally made it to Nāpau Crater edge. Since it wasn't lunch time yet, and the eggs and sausages we had or our breakfast had probably burnt up, we decided to enjoy our sushi rolls and mochi balls, with a view. We spent almost an hour here in total isolation and far away from noise pollution, except for the occasional tour helicopters buzzing by from above.
Then we backtracked towards the fork, and headed for the campsite. The campground is very basic and there is an outhouse too. We continued on past the campground , skirting the left side of Nāpau Crater rim. We came across some interesting looking tree moulds and lava trees.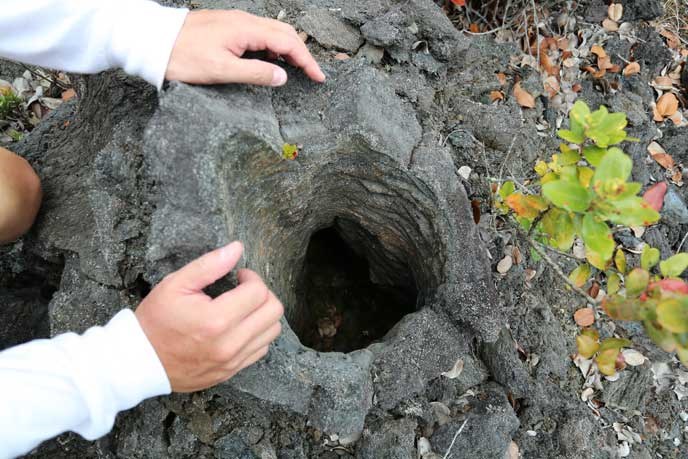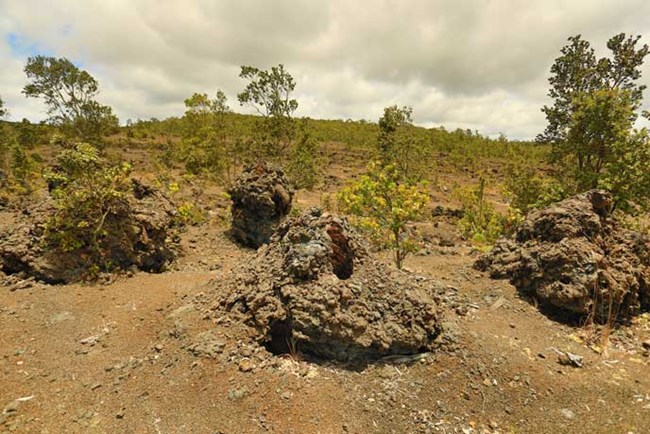 The were also some oddly shaped lava rocks but some were man made like this one.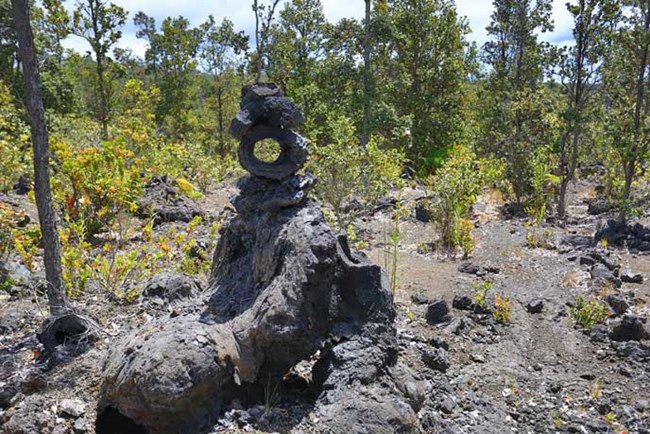 As we dropped down to almost nearing the crater floor, we came to an abrupt end of our hike as we were greeted with signs after signs warning us not to proceed further. It looks like they cordoned off the rest of Nāpau trail due to landslide and instability.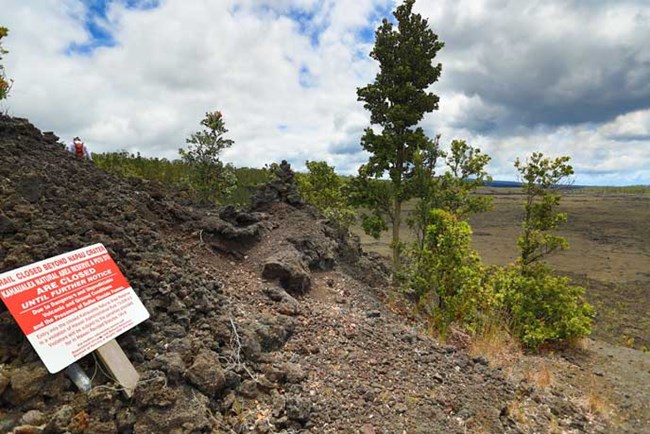 We took this last opportunity to snap as many pictures and videos as we can of Nāpua and Pu'u 'Ō'ō while enduring the scorching heat from the pre-noon sun. You can feel the heat working its way up the soles of your shoes.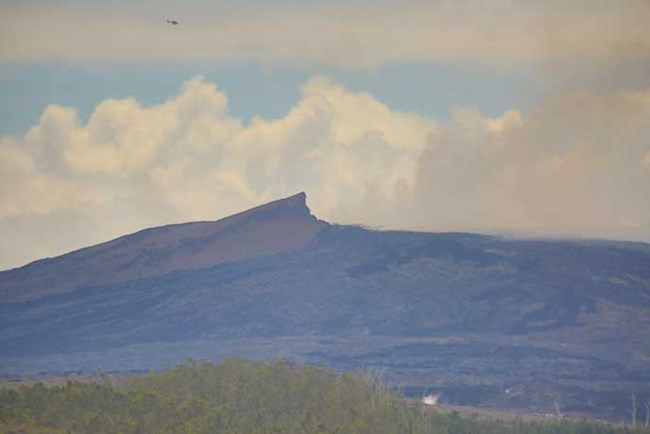 As we turned around and headed back towards whence we came, we thought of the fact that we had to retrace back each step we made from the start of our journey. We were glad that we made good time coming here and we don't have the need to rush back to our car. All in all, we had a splendid time exploring and photographing Nāpau trail, taking us from cool native forest, across barren lava field, to fern mossy forest and to an almost semi-arid-desert like feature.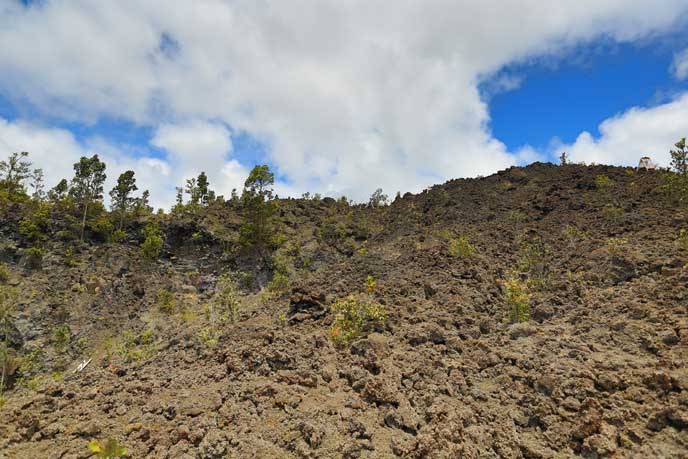 Here are some additional pictures from this hike for your viewing pleasure: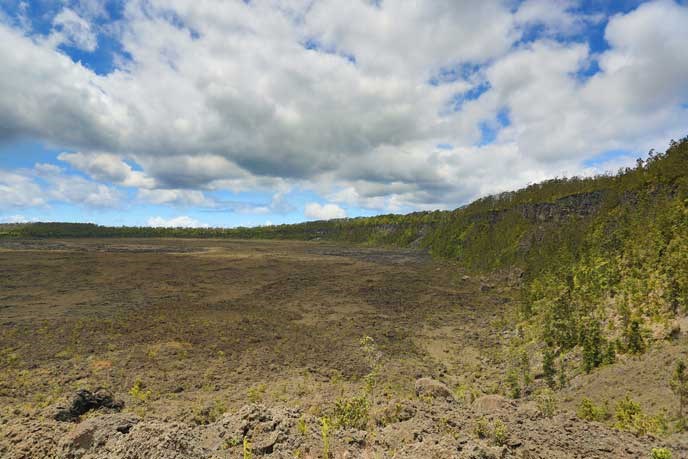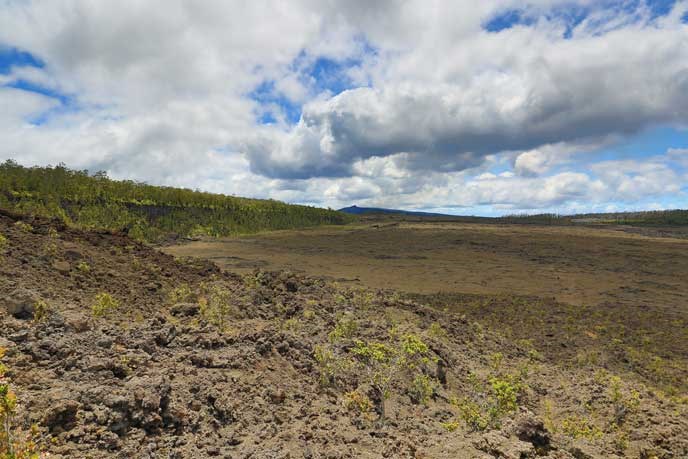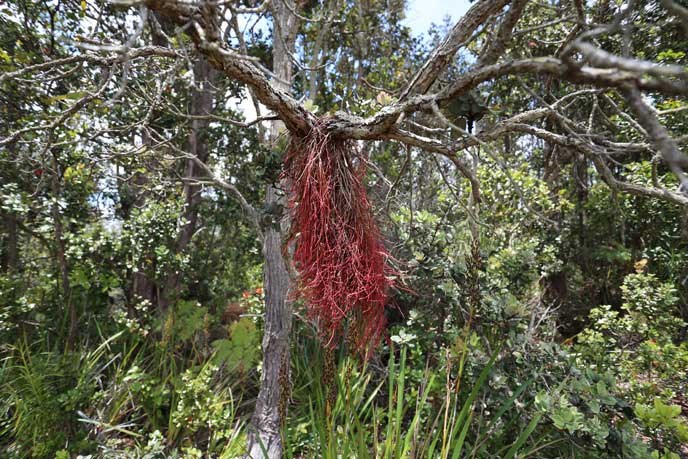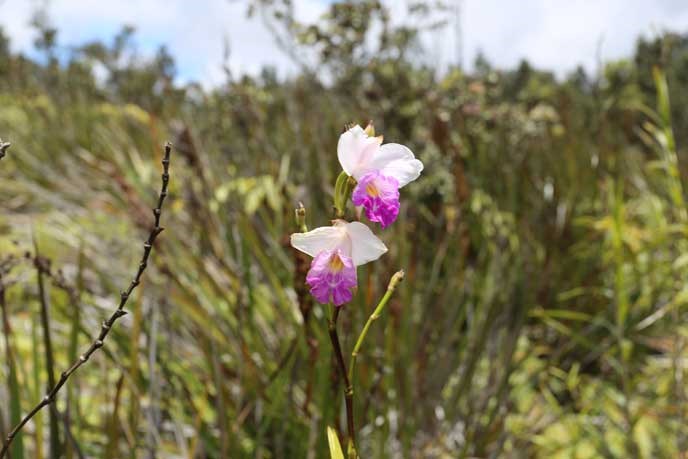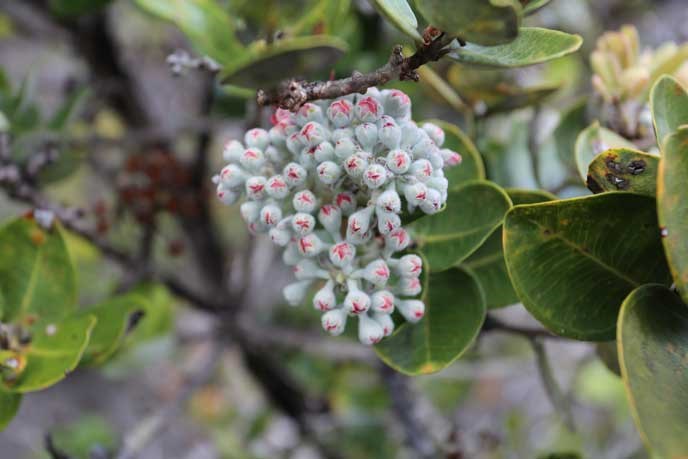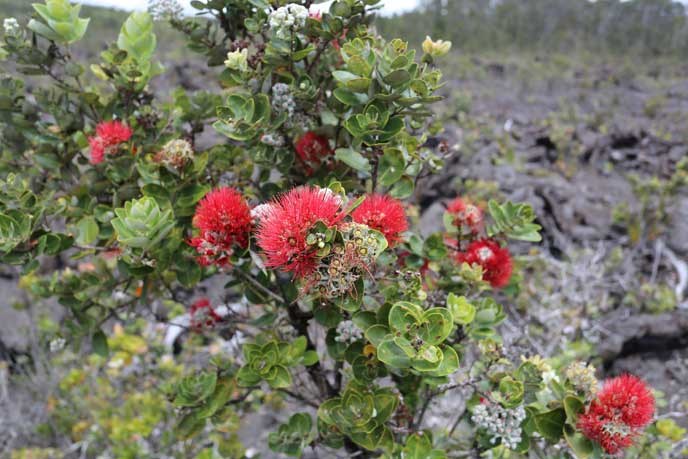 Last updated: July 17, 2015