Hike Journal - Mauna Loa by Andrew Twiddy, March 14, 2012
The Mauna Loa Ascent by the Great-great-great-great-great grandson of Joseph Baker, Andrew Twiddy, and family.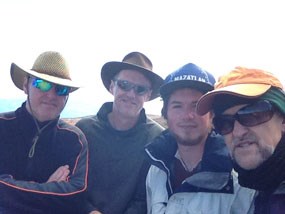 Sunday March 11, 2012
Our preparation for our approach to climbing Mauna Loa began with a drive up Mauna Kea on the afternoon of the previous day in order to get a partial acclimatization to the high altitude for the next days trip.
We could certainly feel the effect of the lower amounts of oxygen and the greater intensity of the sun, and two us of were developing minor headaches.
We drove to the highest part of the paved road, and then made the short trek through the lava and the snow to the summit. It seemed good to us to follow the tradition of others in making a small offering of respect at the ahu, the cairn of rocks marking the summit, as we took pictures of ourselves. In the Scottish tradition, a small hip flask of single malt with what we would call a 'wee dram', is an appropriate way to mark the moment on top of a mountain.
We returned to the parking lot in time for the sunset, and captured a beautiful red glow of the sun descending into the clouds and giving the appearance of a volcanic eruption over Hualalai, before we descended to the visitor centre to do some stargazing and listen to a thoroughly interesting and informative outdoor presentation and guided tour of the night sky and its current activity. I am sure none of us have seen such clear skies and such a panoramic view of so many stars as we have seen at this elevation in Hawaii. The light near the horizon in the zodiacal circle, we learned, is only visible where the sky is very clear and has no competing light to obscure it. Identifying a variety of constellations for which he had known names but not locations, and marvelling at the intensity of the milky way, brought new experiences for us.
Our original plan had been to make use of the cabins at the Mauna Kea state recreation area at 6500 feet, but since we had not accounted for the 7­day advance booking requirement, we decided to drive back to sea level and make an early start the next day.
Monday March 12
We started our day before sunrise with a drive from our lodgings near Pahoa into Kens pancake house in Hilo for a hearty breakfast to prep us for our hike, and proceeded with up the Saddle Road, out of the rain, and into the sunlight on the slopes of Mauna Loa. We found that we needed to get above 6000 feet before we were out of the clouds.
The Mauna Loa observatory road presented no challenges to our 4-wheel drive Toyota 4Runner, although I see how a vehicle with lower clearance could easily bottom out in some of the many potholes along the way.
The weather was its customarily clear and sunny self, with a barely discernible breath of a breeze on the slopes of the mountain as we set out along the jeep trail and then onto the Mauna Loa trail proper, marked clearly every few hundred feet with ahu, or piled cairns of lava, to guide us along our way.
Our packs were a little heavier, since we had come equipped with food and water supplies for two days plus cold weather gear, although we hoped to reach the summit and return within one day. Pete, the birthday boy, was our geographer, mapping the trail, noting our altitude gain, and marking points along the way on the GPS incase we needed to retrace our steps at any point. Tim had our emergency survival material, and James and I carried some extra water to combat the dehydration potential.
The varying colours and shapes of the aa (sharp) and pahoehoe (smooth) lava maintained our interest at successive elevations as we pressed upward through the thinning air and strengthening sun, pausing regularly to gaze across the valley at the slopes of Mauna Kea, dotted with its array of white-painted telescopes and patches of snow. We all agreed among ourselves on several occasions that we could not agree among ourselves, using either the naked eye or Pete's monocular, as to which were snow drifts and which were astronomical machinery.
Usually in our experience of climbing at lower altitudes we expect to have some signs of birdlife or wildlife, but here we truly felt we were part of a moonscape, surrounded by an eerie yet enchanting silence. We met up with two unidentified bugs, perhaps blown off course from their natural habitat, over the whole trip, but otherwise had each other for company, and met but one fellow climber, who spoke with what appeared to be a South African accent as we exchanged a brief greeting, and who was on his way down from the summit as were were within the last mile of reaching it. When I say we had each others company, I mean mostly silences interspersed with moments of the kind of dry and teasingly sardonic British humour that we usually use in our family in order to communicate with each other.
Once we reached 13,000 ft the headache started to set in for all of us, but not in a manner that affected our capacity or our determination to reach the top, so we simply treated it as collateral damage and got on with the task. I found that I struggled for breath more than the others at steeper parts of the trail and at the highest elevations, so I usually became the lagging part of the convoy, for whom the others patiently and uncomplainingly waited as I took more breaks and plodded more slowly.
As we reached the lip of north pit of the crater, the trail divides, giving one the choice of a 1 mile route across the pit floor to the cabins, or making the further 2.6 miles and 600 extra feet of elevation to the summit. It was tough to believe we had a further two and a half miles to go.
The sheer size and emptiness of the Mokuweoweo caldera gave us a sense of awe. How could this be Hawaii, these islands of greenery and pounding surf? Surely it was a scene from another planet.
We soldiered on to the top, and as we had done the day before on Mauna Kea, we took pictures, and had our wee dram. Since i had labeled this trip 'Hawaii 50', Pete had the foresight and good humour to create individual t-shirts with our ages plus or minus 50 laid out on the front.
I paused briefly and silently to remember our family and our ancestor who had been here 218 years ago, to remember the Hawaiians who supported him, and all those Hawaiians and others who before and after him have had reason to visit this inhospitable and remote spot. I am sure Joseph Baker would have been intrigued at the changes in scientific measurement that have occurred since his day, and that way that a small portable electronic device that slips into your pocket can do so much more than the heavier equipment he arranged to have carried to the top of the mountain to make his measurements.
Speaking of measurements, we were now off our timing by nearly two hours in terms of the recommended time for summitting on a day trip , and since we knew we were not going to traverse lava under a dark sky, no matter how clear or well moonlit, we made our way down with a haste which worked much more easily for me going down than it had coming up, and i often found myself at the lead rather than being the straggler.
As i read the historical material, I knew that Joseph Baker had camped out under an open sky on his final approach to the summit, with minimal equipment, and had simply built a lava wall to keep the wind at bay as he slept on lava as a bed. We had no intention of doing this at 13,000 feet, but we figured that we could probably do it at a lower altitude.
Once we reached the gate on the jeep trail at the boundary of the national park, the sun was starting to get lower in the sky, and we switched to following this trail to give ourselves surer footing for downhill travel.
We switched to flashlight as the sun went down, and once again enjoyed the starry host making its appearance above us, along with satellites and shooting stars to add to the more familiar heavenly visions.
Our geological survey map showed the jeep trail back to our base camp at the weather observatory, and we had the two red lights of the observatory weather station as our version of the north star for the remainder of our descent.
At this point we encountered a little unanticipated drama. We came across a turn in the jeep trail that had a white arrow painted on a rock and pointing us to turn right, and since we expected from the map that the trail would meander in more than once direction before we reached our destination, we decided to take this route.
When we realized that we were running a course in a manner than appeared to be parallel to the paved observatory road, but further away from our car, we knew it would be wise to turn back, but i had little relish for upward climbing at that point, and we conferenced with each other and decided this was our moment to follow the ancestral pathway of roughing it for at least part of the night. So we descended to under 10,000 ft, togged up fully for the cold, and hunkered down beside each other on our sleeping mat. We had built a small lava wall at the side of the jeep trail on the windward side, but the wind was very light and did not present a problem.
I do not remember sleeping much or at all, but i do remember hearing the others snore, feeling the warmth of being tucked up beside each other, and feeling the cold on the tip of my nose. I practised some meditation and silent prayer in a manner that is customary for me. I am sure it is over 30 years since we have all been camping together as brothers, so it gave me a moment to think about the fleeting nature of time and life.
After we had taken some rest, and since most of us were wakeful in the middle of the night, we struck camp and started back uphill around 3.00 in the morning, to rejoin the trail we had left the night before. Our headaches had subsided by now, and we figured it would be around 4 to 5 hours of further hiking, going at a gentle pace. By this time of night the gibbous moon was high above the mountain and was shedding its copious borrowed light on the trail and scene around us. We decided that we did not need our flashlights any longer, and this gave us the added bonus of battery back up for the GPS, which was starting to run low on power. Our cell phones were also on their last juice, since they had been used in camera mode, and so we noted that we did have signal, but turned them off to conserve their dwindling supply of power.
The rest of the hike passed of without event, except for the increasing weariness in our limbs and the blisters developing on our feet. We reached the base camp as the morning light spread its rays over the eastern sky and shone its blessing on our final stretch home. I took the precaution of napping until I felt alert enough to negotiate the downhill drive on the Saddle Road, and we reached sea level around 10.00 am and returned our 4-wheel drive to Harper's before making our way home and resting our weary bodies. That hot tub was sounding very inviting! We had had an amazing workout, Tim had suffered one minor nick on the hand from lava, James had one slip onto his knee on a loose rock that was mercifully uneventful, but we were otherwise unscathed in body, and enriched in mind and spirit.
For all that it was magical to experience this mountain both by sunlight and by moonlight, I fully realize how easily one could get into a life-threatening situation at this elevation without adequate resources and preparation, and Mauna Loa, in all its vastness, commands and deserves the respect of anyone who wishes to spend time there.
Up next is fishing out of Kona, and some snorkeling and kayaking. Our gratitude is due to all those who assisted us along the way here in Hawaii with advice and help, and especially to the staff of the Volcanoes National Park.
All in all, a great experience and a great memory.
Last updated: August 29, 2013