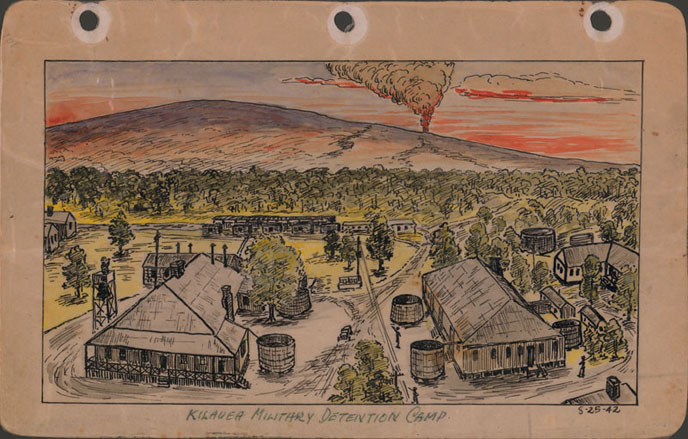 News Release Date:
July 25, 2014
Contact: Jessica Ferracane, 808-985-6018
Hawai'i Volcanoes National Park will offer guided tours of the former World War II detention camp site at Kīlauea Military Camp on Tuesday, July 29, and show the documentary,
The Untold Story: Internment of Japanese Americans in Hawai'i
.
The tours and film are free, but park entrance fees apply. 
The one-hour tour is at 10:30 a.m. and 2:30 p.m., and will focus on the Japanese residents of Hawai'i who were detained at Kīlauea Military Camp during World War II. No registration is required. Meet at the check-in area at Kīlauea Military Camp (KMC), near the flagpole. Park archeologist Dr. Jadelyn Moniz-Nakamura and archive technician Geoff Mowrer will lead the tours. Limited copies of the new National Park Service cultural resources report, A Silent Farewell, will be available. 
At 1 p.m., the documentary
The Untold Story: Internment of Japanese Americans in Hawai'i
, will be shown at the Lava Lounge, located adjacent to the post office at KMC. That evening, the park will show the film as part of its After Dark in the Park series at 7 p.m., in the
Kīlauea Visitor Center Auditorium. Filmmaker Ryan Kawamoto and Carole Hayashino, president and director of the Japanese Cultural Center of Hawai'i, will present both showings of the documentary. 
While the story of the 1942 mass round-up, eviction and imprisonment of Japanese Americans in California, Oregon and Washington has been well documented, very little is known about the Hawai'i internees and their unique experience during World War II. This is the first full-length documentary to chronicle this untold story in Hawai'i's history.