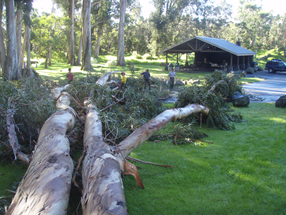 News Release Date:
October 9, 2015
Contact: Jessica Ferracane, 808-985-6018
Nāmakanipaio Campground and cabins are closed until further notice due to several large and hazardous eucalyptus trees that recently fell.
The park and Hawai'i Volcanoes Lodge Company, LLC, which manages the campground and cabins within the national park, are completing an assessment and will determine when the campground can safely reopen. 
Kulanaokuaiki Campground remains open on a first-come, first-served basis and is currently free of charge. Reservations are not required for Kulanaokuaiki. The backcountry campgrounds along the coast, at Nāpau Crater Overlook, Pepeiao, and on Mauna Loa remain open and backpackers can obtain a backcountry permit from the backcountry office, located in the Visitor Emergency Operations Center up to 24 hours in advance. The backcountry office is open daily from 8 a.m. to 4 p.m.
"We are sorry for any inconvenience this may cause for park visitors and the community who enjoy Nāmakanipaio," said Park Superintendent Cindy Orlando. "Safety is our number one priority in the park, and we do not want anyone to get hurt," she said. 
Recent heavy rain and strong winds contributed to the downing of the trees in the campground area. It is not yet known when the campground and cabins will reopen.
-NPS-