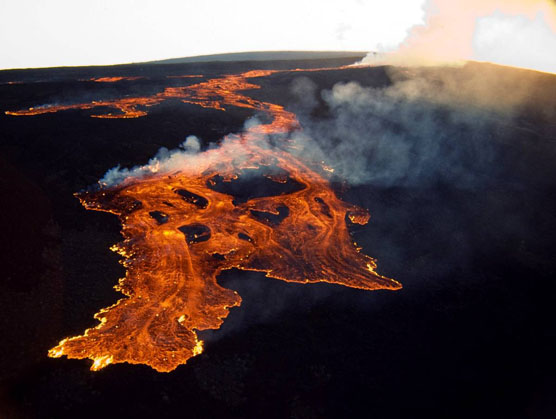 News Release Date:
January 18, 2012
Contact: Jessica Ferracane, 808-985-6018
Contact: Janet Babb (USGS), 808-967-8844
Hawaii National Park, HI - Mauna Loa's past eruptions and current status are the topic of an "After Dark in the Park" program in Hawaiʻi Volcanoes National Park on Tues., Jan. 24 at 7 p.m.
Frank Trusdell, a U.S. Geological Survey Hawaiian Volcano Observatory geologist who has studied Mauna Loa for two decades, will present this talk about the largest volcano on Earth. The program will be held at the park's Kīlauea Visitor Center Auditorium. Park entrance fees apply.
Mauna Loa, one of Hawaiʻi's most active volcanoes, has erupted 33 times since 1843. Its most recent eruption began on Mar. 25, 1984. During that 23-day-long eruption, Mauna Loa sent lava flows to within four miles of Hilo city limits.
Earlier eruptions on the volcano impacted West Hawaiʻi. In 1950, lava flows from Mauna Loa's southwest rift zone crossed Highway 11 in three places on the Māmalahoa highway. The first flow, which erupted from a fissure at an elevation of almost 10,000 feet, flowed from the vent to the ocean in less than three hours.
During Mauna Loa's 1859 eruption, lava flows traveled from vents high on the northwest flank of the volcano and entered the ocean near Kīholo Bay, a distance of over 50 km (31 miles), in eight days.
Because Mauna Loa has now slumbered for more than 25 years, new residents may not be aware that Mauna Loa is an active volcano, and long-time residents may have forgotten the full potential of earthquake, volcano, and gas hazards posed by the volcano. When Mauna Loa erupts, it is capable of disrupting lives and commerce throughout Hawaiʻi Island.
According to Trusdell, Mauna Loa will erupt again, and there's a good chance that it will be during your lifetime.
"HVO closely monitors Mauna Loa, and will notify the public of any changes in its currently quiet status," Trusdell said. "But it's important for island residents to be aware of the volcano's potential activity now so that they are prepared for its next eruption."