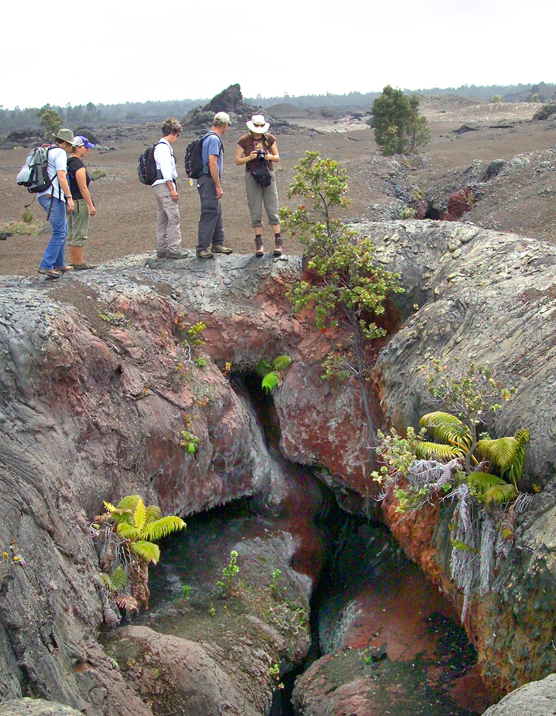 News Release Date:
February 13, 2011
Contact: Nick Shema, 808-967-8648
Time - 12:00 noon to 2:00 p.m.
The Friends of Hawai'i Volcanoes National Park (FHVNP) presents its next "Sunday Walk in the Park" on February 13 from 12:00 noon to 2:00 p.m. This monthly program on second Sundays is aimed at bringing together Friends members to share in the park's beautiful trails.
Led by Nick Shema, this month's two-hour walk will start at the Mauna Ulu parking lot and proceed to the top of Mauna Ulu and back. Due to the cultural sensitivity of Mauna Ulu, the size of the group will be limited to 15 people.
"This will be a moderate, fairly flat hike of about 2.5 miles roundtrip, mostly over pahoehoe lava at 3,200' elevation," states Shema, who chairs FHVNP's Programs Committee. "Participants should be prepared for variable weather conditions, including sunny, windy, chilly, and/or rainy."
This program is presented by FHVNP, a 501(c)(3) non-profit organization, whose mission is to support the National Park Service in the protection, preservation, and interpretation of the natural and cultural resources at Hawai'i Volcanoes National Park for the enjoyment of current and future generations.
FHVNP's "Sunday Walk in the Park" is free for Friends members, and non-members are welcome to join the Friends in order to attend. And, of course, additional donations are always accepted. Park entrance fees apply.
For more info, visit www.fhvnp.org.