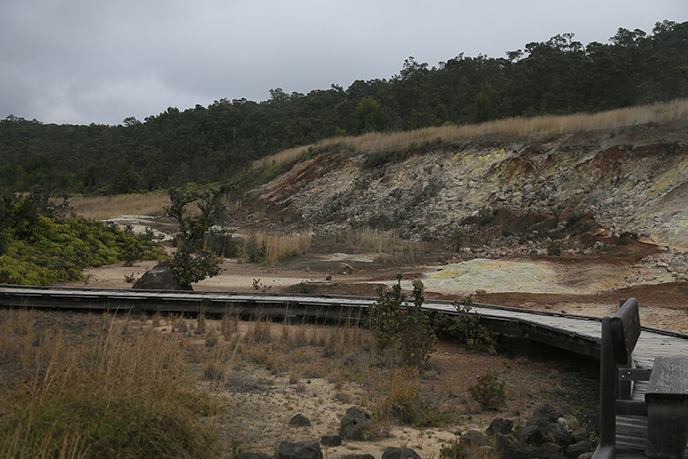 News Release Date:
March 11, 2016
Contact: Jessica Ferracane, 808-985-6018
A project to improve and repair the popular Sulphur Banks Trail and boardwalk in Hawai'i Volcanoes National Park has begun.
Visitors can expect partial trail closures Monday through Thursday as a park trail crew widens sections for better viewing of interpretive exhibits, improves accessibility for the disabled, and replaces rotting boards, among other enhancements. 
The trail work should be complete by the end of June. The partial closures will occur weekly Monday through Thursday, but the trail will be fully open Friday through Sunday. Although the work will prevent loop hikes along Sulphur Banks (Ha'akulamanu) Crater Rim trails, a portion of the trail will be open either from Kīlauea Visitor Center or the Steam Vents access points. 
Sulphur Banks (Ha'akulamanu) is a scenic and easy trail that goes to an area where volcanic gases created colorful sulfur crystals, and other minerals paint the landscape. Due to sulfur fumes, people with heart or breathing problems, pregnant women, and young children should avoid this trail. 
-NPS-