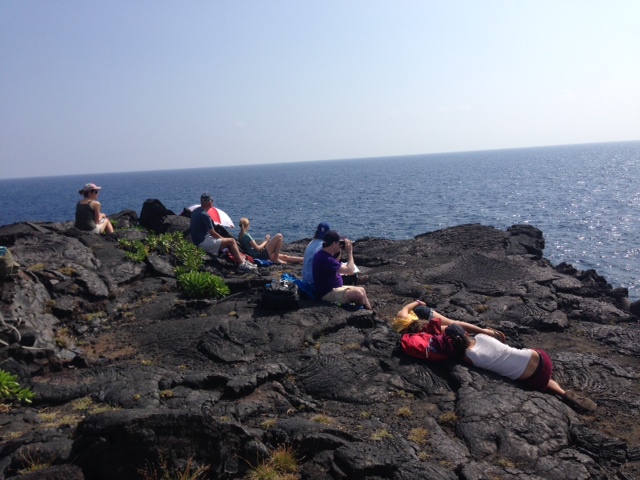 News Release Date:
March 25, 2014
Contact: Jessica Ferracane, 808-985-6018
Contact: Park Ranger Adrian Boone, 808-985-6172
Hawai'i Volcanoes National Park encourages volunteers to register to help count humpback whales during the final 2014 Sanctuary Ocean Count held this Saturday, March 29, from 8 a.m. to 12 p.m.
Ka'ena Point, located near the end of Chain of Craters Road in Hawai'i Volcanoes National Park, is one of Hawai'i Island's 21 Sanctuary Ocean Count sites. It is the first pullout along the ocean, close to the end of the road – about a 45-minute drive from the park entrance. Bring a cushion or chair to sit on, snacks, sun and rain protection. Binoculars are optional. Check in with Sanctuary Ocean Count site leader, Park Ranger Adrian Boone. 
Volunteers on shore monitor humpbacks in nearshore waters for the Hawaiian Islands Humpback Whale National Marine Sanctuary. Residents and visitors look forward to this yearly event which provides important population and distribution information about humpback whales around the Hawaiian Islands.
The Sanctuary Ocean Count is an ideal opportunity for the community and the park to work together as stewards of the ocean. These splendid creatures swim more than 2,000 miles to Hawai'i from Arctic waters every winter, and the annual count is one way to observe and record their behavior and ensure their future. 
-NPS-