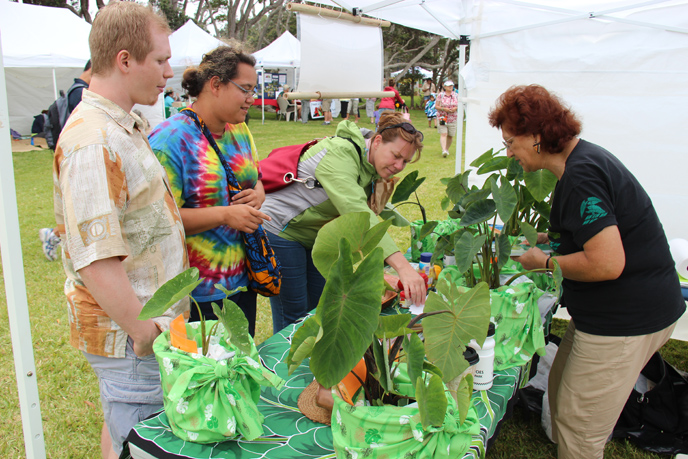 News Release Date:
April 8, 2014
Contact: Jessica Ferracane, 808-985-6018
Hawaii National Park, Hawai'i – The National Park Service, in partnership with the National Park Foundation, will celebrate National Park Week April 19-27 with a free-admission weekend and special events nationwide.
The theme for this year's National Park Week invites visitors to Go Wild! for history, nature, culture, wildlife, and fun in America's national parks. At Hawai'i Volcanoes National Park, the timing is perfect for visitors to "Go Wild for Culture" while celebrating Hilo's 51st annual Merrie Monarch Festival, the most revered hula competition in the world.  
Admission to all fee-charging national parks is free from Saturday, April 19 through Sunday, April 20 to kick off National Park Week. Hawai'i Volcanoes National Park will offer 12 Hawaiian cultural events planned April 23-25; these events are free but admission fees apply. All programs are part the park's ongoing 'Ike Hana No'eau "Experience the Skillful Work" cultural workshops, and are co-sponsored by the Hawai'i Pacific Parks Association:
Wednesday, April 23 
Kalo Demonstration. Join Edna and Sam Baldado as they share the cultural uses of kalo, or taro plant. See how each plant is identified by its leaf, steam, corm, color, and shape. Discover the hundreds of varieties of kalo in Hawaii, and how kalo was used for food, medicine, glue, dyes, and much more.
When: Wed., April 23 from 10 a.m. to 1 p.m.
Where: Kīlauea Visitor Center lānai 
Feather Kāhili Workshop. Helene Hayselden will demonstrate the art of making a feather kāhili, a symbol of royalty. Watch or join in and make your kāhili to take home.
When: Wed., April 23 from 10 a.m. to 1 p.m.
Where: Kīlauea Visitor Center lānai
Music by Rupert Tripp, Jr. Enjoy the beautiful music and voice of singer, songwriter, and multiple Nā Hōkū Hanohano Award nominee, Rupert Tripp, Jr. When: Wed., April 23 from 10 a.m. to 1 p.m. Where: Kīlauea Visitor Center lānai
Lā'au Lapa'au. Ka'ohu Monfort shares her knowledge and love of the island's native plants. Learn how her passion for plants and the Hawaiian culture are used to heal and nourish. See and touch a variety of medicinal plants, including kuku'i, 'ōlena, ha'uowī, noni, kī, and guava.
When: Wed., April 23 from 10 a.m. to 1 p.m.
Where: Kīlauea Visitor Center lānai