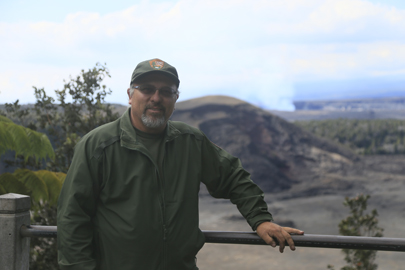 News Release Date:
December 31, 2014
Contact: Jessica Ferracane, 808-985-6018
New Year's Eve is not only the last day of 2014, but it also marks the retirement of Hawai'i Volcanoes National Park master mechanic Harold Mulliken. Born and raised in Volcano, Hawai'i, Mulliken served his "playground" for nearly 25 years.
Mulliken started his career in 1990, fixing all types of vehicles and equipment. He also assisted paving roads and making trails in the park, worked as a backup driver and heavy equipment operator, and helped build a coastal shelter to assist the Hawai'i Island Hawksbill Turtle Recovery Project, among many other projects.
"There was never a time Harold wasn't willing to help out or try something new. His positive 'anything-is-possible' attitude helped to create the infrastructure of the park today," said Jon Mitsuda, Acting Roads & Trails Supervisor. "We are going to miss not just his skill set, but his teamwork mentality."
Harold's children and wife Annabelle have also worked as park employees over the years. In his retirement, he plans to explore the national parks on the mainland with Annabelle, and restore his fleet of 12 Mustangs.