Keola Awong Selected as Kahuku Unit Area Manager in Hawai'i Volcanoes National Park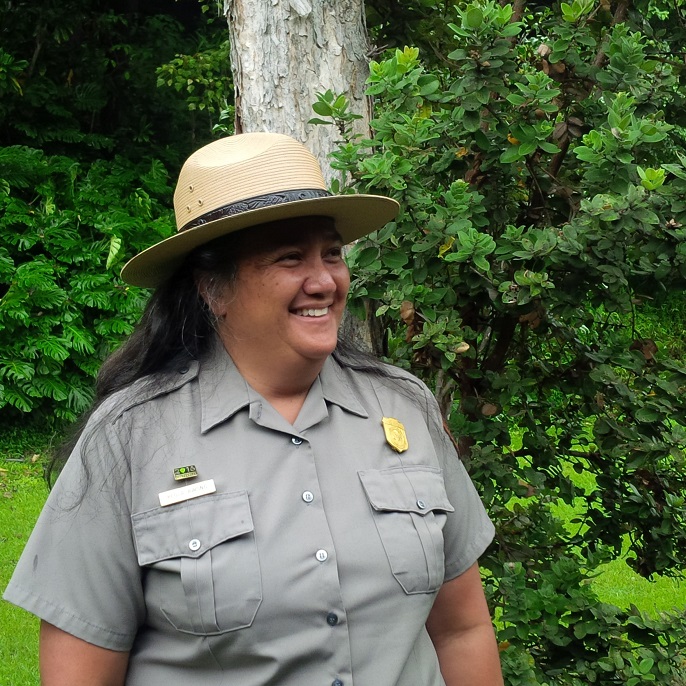 News Release Date:
October 9, 2015
Contact: Jessica Ferracane, 808-985-6018
Keola Awong is the new site manager for the Kahuku Unit within Hawai'i Volcanoes National Park. She will oversee staff and visitor programs in the 116,000-acre unit, which is open to the public on weekends from 9 a.m. to 3 p.m.
Awong has served as the park's cultural anthropologist since 2005, and will continue to serve as the park's liaison to the native Hawaiian community. She holds a Master of Arts degree in American Studies, and graduate certificates in Museum Studies and Historic Preservation, from the University of Hawai'i at Mānoa. She earned a Bachelor of Arts degree in Anthropology with a minor in Hawaiian studies from the University of Hawai'i-Hilo. She began her career in the national park as a fee collector in 1999.
Kahuku, which was acquired by the National Park Service in 2003, is located in the Ka'ū District on the southwest rift zone of Mauna Loa, the world's most massive active volcano. The Kahuku Unit stretches from Highway 11 to the summit of Mauna Loa, and features historic lava flows and geologic features, relics of a fascinating ranch history, and a rich connection to the Hawaiian culture. Kahuku also provides vital habitat for a variety of native plants and animals, including nēnē, rare lobeliads, and the Ka'ū silversword. 
-NPS-
Last updated: October 9, 2015