Date:
April 21, 2011
Contact:
Jessica Ferracane, 808-985-6018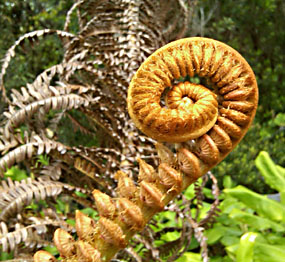 Hawai`i National Park, HI  –  There are only four days left to visit Hawai`i Volcanoes National Park for free during National Park Week, which started April 16, 2011 and lasts through April 24, 2011.
Come and enjoy the dazzling red blooms of native `ohi`a lehua, the songs of Hawaiian forest birds like `apapane, and the unfurling of "fiddleheads," or `ama`u fern fronds (pictured), throughout the 333,086-acre park.
Hawai`i Volcanoes is one of five national park units on Hawai`i Island. Pu`uhonua o Honaunau National Historical Park is also free of charge now through April 24, 2011. There is no admission at Pu`ukohola Heiau National Historical Site, Kaloko-Honokohau National Historical Park, or along the Alakahakai National Historic Trail. 
"Spring is such a wondrous time to visit Hawai`i Volcanoes and all our National Parks in Hawai`i," said Superintendent Cindy Orlando. "Our National Parks are always a memorable and affordable experience, but in these tough economic times we added fee-free days as a way to ensure that everyone has the opportunity to visit," she said. Mark your calendar for more upcoming fee-free days at your National Parks: June 21 (first day of summer), September 24 (National Public Lands Day), and November 11-13, 2011 (Veterans Day Weekend).