Mardie Lane, Longtime Voice of Hawai`i Volcanoes Retires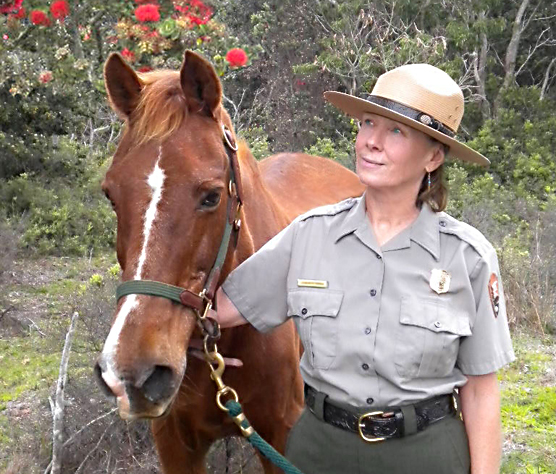 News Release Date:
April 20, 2011
Contact: Jessica Ferracane, 808-985-6018
The "Lane Ranger" Saddles Up for Her Next Adventure
Hawai'i National Park, HI -- Hawai`i Volcanoes National Park Public Information Officer Mardie Lane retired after more than 30 years of serving the 333,086-acre national park. 
Lane officially retired March 31, 2011. Her distinguished park career spanned numerous eruptive milestones at Kilauea and Mauna Loa volcanoes, as well as important historical occurrences, such as the park's designation as a World Heritage Site in 1987 and its acquisition of Kahuku ranchlands in Ka`u in 2003.
She started as a seasonal park ranger in 1977. After completing a degree in park management and environmental education at the University of Oregon, Lane returned to Hawai`i Volcanoes in 1982 as a permanent park ranger.
The "Lane Ranger," as veteran Honolulu Advertiser columnist Dave Donnelly dubbed her, was on the job when Pu`u Kia`i erupted in 1977, sending lava towards Kalapana. She was on site for the eruption of Mauna Loa in 1984, Kilauea's two summit eruptions in 1982, and the 28-year east rift eruption at Pu`u `O`o. Her final press release recapped last month's spectacular March 5 Kamoamoa fissure eruption.
But her passion for the park started long before then.
"I first stepped foot on Kilauea when I was three years old. The volcano captured my soul," Lane recalls.
While she kept the world informed about breaking news at the park, much of her work resonates with the tens of millions of park visitors who have visited Hawai`i Volcanoes during the last 30 years. For instance, she and filmmaker Mick Kalber collaborated on the award-winning video, Born of Fire, Born of the Sea, a 20-minute introduction to Hawai`i's volcanoes and native plants, animals, and people shown daily at the Kilauea Visitor Center. She earned the respect of many notable Hawaiian leaders for her dedicated and mindful articulation of culture and history. Lane also created the park's brochure and signage at Thurston Lava Tube and backcountry trailheads.
She worked with more than a thousand television and film crews, and coordinated visits by dignitaries and celebrities, including former First Lady Rosalind Carter and daughter Amy, the Princess of Thailand, Robin Williams and William Shatner (both of whom filmed documentaries at the park). One of her favorites? Rocker Chris Isaak, who filmed his seductive video Wicked Game on the former black sand beach at Kamoamoa.
In addition, Lane was called to duty as PIO at other Hawai`i parks, including the USS Arizona Memorial (the 60th anniversary of the bombing of Pearl Harbor), Kalaupapa National Historical Park (the return of the relic of Father Damien and the 100th anniversary of Father Damien's death), and Pu`ukohola National Historic Site (the 200th anniversary of the unification of the Hawaiian Islands). She also served in the Mariana Islands at national parks in Saipan and Guam for their 50th anniversaries of liberation.
Lane says there's nowhere else like the constantly changing park that captured her soul as a child.
"Where else does one stand at the edge of creation? Where else does earth's incandescence illuminate the faces and warm the hearts of those who arrive before sunrise and linger after sunset?" she asks.
Lane, who lives in Volcano, will not be a stranger to Hawai`i Volcanoes after retirement. She volunteers for park programs, including serving as an interpretative ranger at the Kahuku unit, and especially dear to her, working at the stables, where five horses and two mules are used by park rangers for patrol, parades, and wilderness maintenance.
"Keeping the public informed of park news and current volcanic conditions was one aspect of the job Mardie was widely recognized for by media worldwide and she loved it," said Hawai`i Volcanoes' Superintendent Cindy Orlando. "But what really makes her glow is working with animals, whether at the stables, along the coast with sea turtle hatchlings, or in the mountains with rare geese and forest birds," Orlando said.
Last updated: February 28, 2015