Date:
March 29, 2011
Contact:
Mardie Lane, Park Ranger
, 808-985-6018
Contact:
Will Seitz, Turtle Recovery Project Coordinator
, 808-985-6090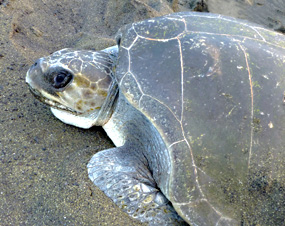 Hawai'i Volcanoes' Hawksbill Turtle Recovery Project marked its 21st anniversary with a stellar nesting season.
For nine months, forty trained and experienced volunteers protected 40 nests of thirteen endangered sea turtles at six beaches along the southern coast of Hawai'i Island. 
Their efforts paid off big time—an estimated 4,000 hatchlings made it safely to the sea, but the story doesn't end there. 
Late in the season, two volunteers witnessed a rare sight. As they combed a beach at dawn for signs of hawksbill nesting, they happened upon a sea turtle laying eggs in the sand.  
However, this small turtle with her heart-shaped shell was neither a hawksbill nor the more common green. The turtle was an olive ridley and these fortunate volunteers were witness to only the fourth documented olive ridley nesting event in Hawai'i.    
But perhaps more fortunate than the volunteers, was the turtle. She had dug a nest and deposited her eggs in a tidal inundation zone. Against a backdrop of rising tide and crashing surf, the volunteers knew they had to move the eggs to higher ground before the nest washed away.