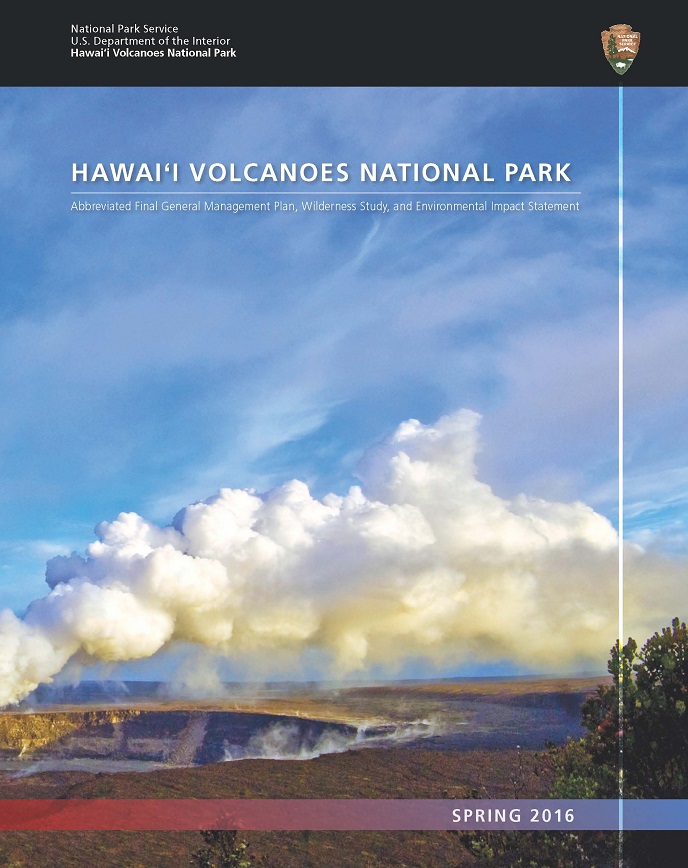 News Release Date:
March 10, 2016
Contact: Jessica Ferracane, 808-985-5018
Hawaii National Park, HI – Hawai'i Volcanoes National Park is pleased to announce the release of the Hawai'i Volcanoes National Park Abbreviated Final General Management Plan/Wilderness Study/Environmental Impact Statement (Final GMP/WS/EIS). This plan provides long-term management guidance about the preservation and use of this national treasure, UNESCO World Heritage Site and International Biosphere Reserve.
 Over the past several years, many people have participated in the planning process through public meetings and formal comments received via mail, comment forms, and website forums. The NPS released the Draft GMP/WS/EIS in May 2015. During the 60-plus days that the document was available for review and comment, the NPS received 32 pieces of correspondence on the draft plan. Through the feedback received, it was determined that Alternative 2 would remain the preferred alternative and that the management actions it proposes will best guide long-term stewardship of Hawai'i Volcanoes National Park. 
"It's vital to have a comprehensive plan that guides management decisions as we enter into our next 100 years of protecting this extraordinary park for future generations," said Superintendent Cindy Orlando. Both Hawai'i Volcanoes National Park, and the National Park Service, commemorate their centennial anniversaries in 2016. 
The Final GMP/WS/EIS is in an abbreviated form because comments received during the public review period required only minor responses and editorial changes to the Draft GMP/WS/EIS. There are no substantial changes to the alternatives or the impact analyses presented in the Draft GMP/WS/EIS, and Alternative 2 remains the preferred alternative. This abbreviated format of the final plan has allowed the NPS to produce a simple, brief document and to avoid the costly reprinting of the entire 500-plus page document.
The public release of the Abbreviated Final GMP/WS/EIS will be followed by a 30-day no-action period, after which the NPS will prepare a record of decision to document the selected alternative. During the no-action period, the public can provide comments on the plan at the website:
https://parkplanning.nps.gov/havogmp.
CDs of the documents, as well as the full abbreviated final document, have been distributed to all of the public libraries on Hawai'i Island. 
-NPS-