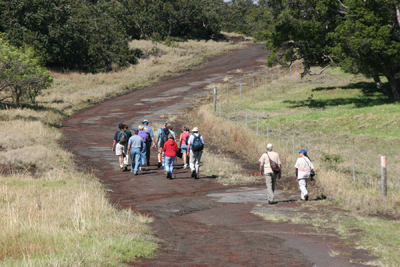 News Release Date:
August 30, 2010
Contact: Julie Mitchel, (808) 985-7373
The public is invited to become a member of the Friends of Hawai`i Volcanoes National Park (FHVNP) and attend the 2010 Annual meeting at the Kahuku Unit of Hawai`i Volcanoes National Park.
"For the first time, the Friends holds our members-only Annual Meeting at Kahuku.  Join us for an exciting day of meet and greet, the board of directors election, and your choice of three ranger-led field trips," says spokesperson Julie Mitchell.  "If you are not a member, we invite you to become one so you can attend this special event."
The Annual Meeting begins at 11 a.m. with check in and membership sign up.  Next up are speakers Ab Valencia, FHVNP board president; Cindy Orlando, the park's superintendent; and Jim Gale, the park's chief of interpretation.  A delicious catered lunch is then followed by the election of the new board.  Finally, the day ends with a selection of three unique field adventures.
"Treasured Tales of Kahuku" delves into the stories of the lucky ones who survived on the active rift zone of Mauna Loa.  A ranger leads an exploration of an emerging native forest as it winds past 1868 volcanic vents and flows.  Participants experience how people lived on the vast Kahuku lands as early Hawaiians and later ranchers, plus learn about Kahuku's history of violent earthquakes and eruptions.  This 2 hour field trip includes 2 ½ miles of hiking through pastures, quarry, airstrip, and extraordinary 1868 lava fields.
"Chorus of the Crater" focuses on scientists who restore native forests by modeling life in a pit crater.  Join a park scientist for short walks to experimental plots to learn what methods work best to restore the forest in wet versus dry areas of Kahuku when protected from hoofed animals.  Participants journey to a huge forested pit crater, peer over the steep sides, and become immersed in the chorus of the crater's endemic plants and animals. This 2 hour field trip includes ¼ miles of walking (over uneven terrain).
"Rainforest Remnants" takes participants through the scenic pastures of Kahuku to a remnant of a primeval native Hawaiian rain forest.  Journey through time while hiking to a forested pit crater on a path through Kahuku's ancient and historic landscapes.  This ranger-led hike meanders through pastures peppered with koa and 'ohi'a-lehua trees to the edge of a great collapsed crater formed during the epic eruption of Mauna Loa in 1868.  This 2 hour field trip includes 2½ miles of hiking.
"Attendance to this event is free to members of FHVNP, a 501(c)3 non-profit organization that strives to connect people with the park through education, volunteerism, and philanthropy," states Mitchell.  "Our mission is to support the National Park Service in the protection, preservation, and interpretation of the natural and cultural resources at Hawai'i Volcanoes National Park for the enjoyment of current and future generations."
The entrance to Kahuku is located between mile markers 70 & 71 on the mauka side of Highway 11 in Ka'u.  Attendees should be prepared for variable weather conditions.  Closed toed shoes or boots, long pants, and protective gear for sun or rain are recommended.
To register for FHVNP's Annual Meeting, please call 985-7373 or email admin@fhvnp.org .  For more details, visit www.fhvnp.org