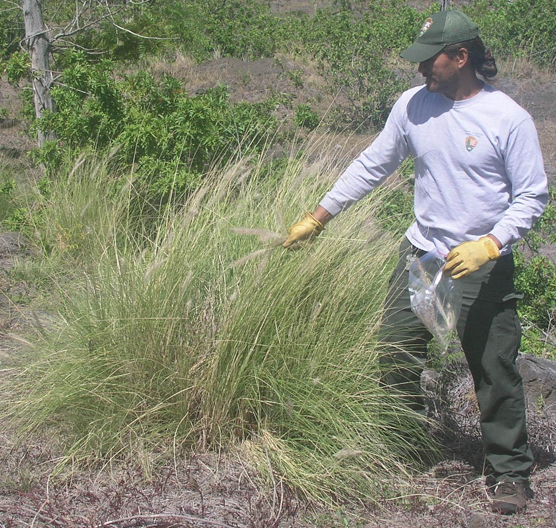 News Release Date:
June 19, 2012
Contact: Jessica Ferracane, 808-985-6018
Contact: David Benitez, 808-985-6085
Hawaii National Park, Hawaiʻi - Volunteers are invited to work with the Ocean View Community Association and Hawaiʻi Volcanoes National Park staff to remove invasive fountain grass from roadsides in Hawaiian Ocean View Estates (HOVE) on Sat., June 23 from 9 a.m. to 3 p.m.
Fountain grass (Pennisetum setaceum) is a highly flammable bunch grass native to North Africa. This fire-promoting plant spreads quickly, and is one of the few invasive species that can colonize young lava flows that would otherwise serve as natural firebreaks. In August 2005, this noxious weed contributed to the spread of a 25,000-acre wildfire that forced evacuation of Waikoloa Village. Fountain grass aggressively chokes out native plants and increases fire potential in natural areas. It is a problem for all districts around the island, especially leeward areas.
Volunteers will meet at the Ocean View Community Center at 9 a.m. on Sat., June 23. Bring lunch, water, a hat and sunscreen. For more information, call Hawaiʻi Volcanoes National Park ecologist David Benitez at 985-6085 or e-mail us.