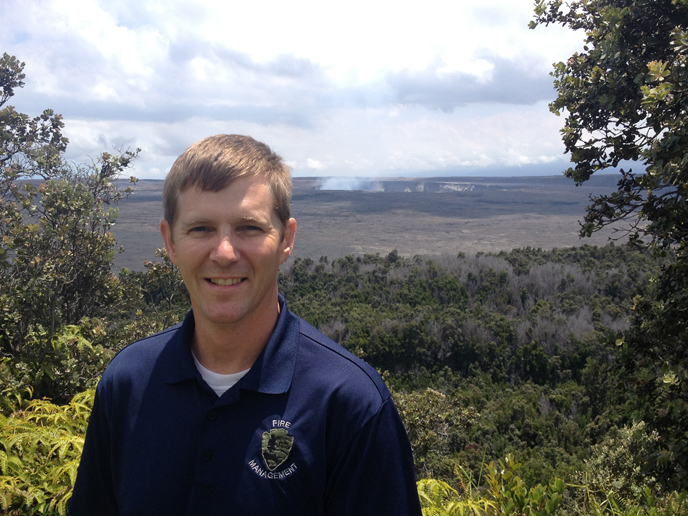 News Release Date:
August 13, 2013
Contact: Jessica Ferracane, 808-985-6018
Hawaii National Park, Hawai'i – James Courtright is the new Fire Management Officer (FMO) at Hawai'i Volcanoes National Park, and will oversee fire management for 11 national parks in the Pacific Island Park network.
Courtright, who previously worked as the Assistant Fire Management Officer at Zion National Park and the Utah Parks Group, has extensive experience in fire and aviation management. He has helped extinguish countless fires in the western states and worked cooperatively with multiple agencies during his nearly 20-year career. His experience ranges from interagency management of wildland fires and all risk incidents, prescribed fire, aviation operations, engines to "hotshot" hand crews.
In his new position, Courtright will again coordinate fire management with partner agencies, including the County of Hawai'i Fire Department, the Department of Land and Natural Resources' Division of Forestry & Wildlife, and U.S. Fish and Wildlife Service. The Pacific Island Park network extends from the West Pacific and includes the National Park of American Samoa, American Memorial Park in Saipan, War in the Pacific National Historic Park in Guam, and all eight national park units in Hawai'i.
Courtright and his wife Leslie live in Volcano and have twin three-year-old daughters, and an eight-month-old son.