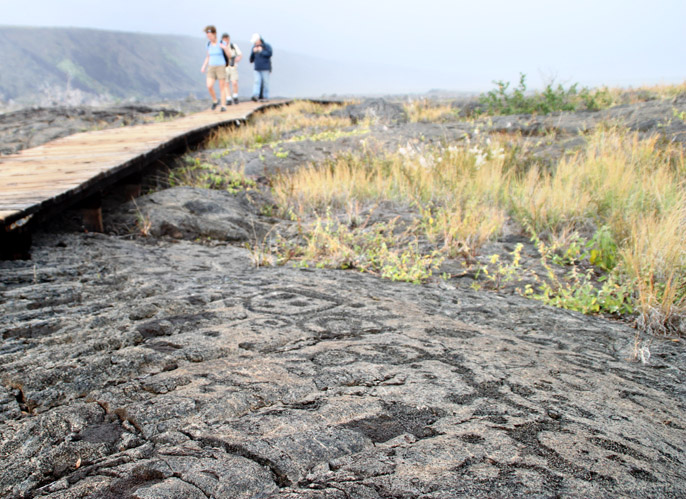 News Release Date:
October 1, 2014
Contact: Jessica Ferracane, 808-985-6018
Hawai'i Volcanoes National Park commemorates both Hawaiian Archeology Week Oct. 3-12, and International Archeology Day on Oct. 18 by offering a series of ranger-guided hikes, archeology-themed events, and a special junior ranger program. All programs are free, but park entrance fees apply. Chisel these events onto your calendars:
Ranger-Guided Hike to Pu'u Loa Petroglyphs. Visit the largest ki'i pōhaku (petroglyph) field in Hawai'i, and ponder the meaning behind the tens of thousands of carvings that Hawaiians etched into lava here. The hike is 0.7 miles one-way, and takes about 1.5 hours roundtrip.
When: Oct. 5, 7, 8, 10, 12, 16, 17 and 18 from 2 p.m. to 3:30 p.m.
Where: Meet the park ranger at 2 p.m. at the Pu'u Loa Petroglyph parking area on Chain of Craters Road, a 45-minute drive from the park entrance.

After Dark in the Park: "The Settlement of the Pacific and Hawaiian Origins: A Perspective from Archeology." When Captain James Cook and other European explorers entered the Pacific in the 18th century, they were astounded to find that virtually every single island was already populated by indigenous island cultures. Where had the ancestors of these island people come from, and how did they manage to discover and settle even the most remote islands, including Hawai'i? Over the past century, archeologists have sought the answers to these questions. Dr. Patrick V. Kirch, Chancellor's Professor Emeritus at the University of California at Berkeley, reviews the history and presents current evidence for the history of human settlement throughout the Pacific.
When: Tues., Oct. 14 from 7 to 8 p.m. (Doors open at 6:30 p.m.)
Where: Kīlauea Visitor Center Auditorium 
Ranger-Guided Hike to Ka'ū Desert. Learn about Kīlauea Volcano's violent eruptive history on this three-mile roundtrip hike, and how Hawaiians adapted to this harsh volcanic desert environment. New research reveals there's far more to the story behind the famous footprints preserved in ash, and the geologic features along the way, including Pele's hair, lapilli, tumulus, and other lava formations, will astound you.
When: Sat., Oct. 18 from 1:30 p.m. to 3:30 p.m.
Where: Meet park rangers at the Ka'ū Desert Trailhead off Highway 11 
International Archeology Day.
Families are invited to celebrate International Archeology Day with park archeologists and cultural practitioners who will share Hawaiian culture through its cultural treasures. Fun, hands-on, keiki-friendly activities include shoebox excavations (dig in and excavate your own archeological site with a friend); a stone tool-making demonstration with master stone-tool artist Tom Pico; pono petroglyph rubbings (without damaging real-life petroglyphs), and Lapita pottery impressions, where keiki can trace the Polynesian migration through pottery shards the ancients left behind, and create their own ceramic tile to take home. In addition, the short film Pacific Clues: Footprints in Lava, hosted by park archeologist Dr. Jadelyn Moniz-Nakamura, reveals the story of ancient footprints in the Ka'ū Desert and will be shown in Kīlauea Visitor Center throughout the day. At the end of the day, visit the future home of the park's new cultural museum at the 1932 Administration Building. At this final station, keiki can take the pledge and earn their Junior Archeology Ranger patch. Each junior ranger will receive the new Archeology in Hawai'i Volcanoes National Park children's booklet.
When
: Sat., Oct. 18 from 10 a.m. to 3 p.m.
Where
: 1932 Administration Building and lawn, aka the 'Ōhi'a Wing, between Kīlauea Visitor Center and Volcano House
-NPS-