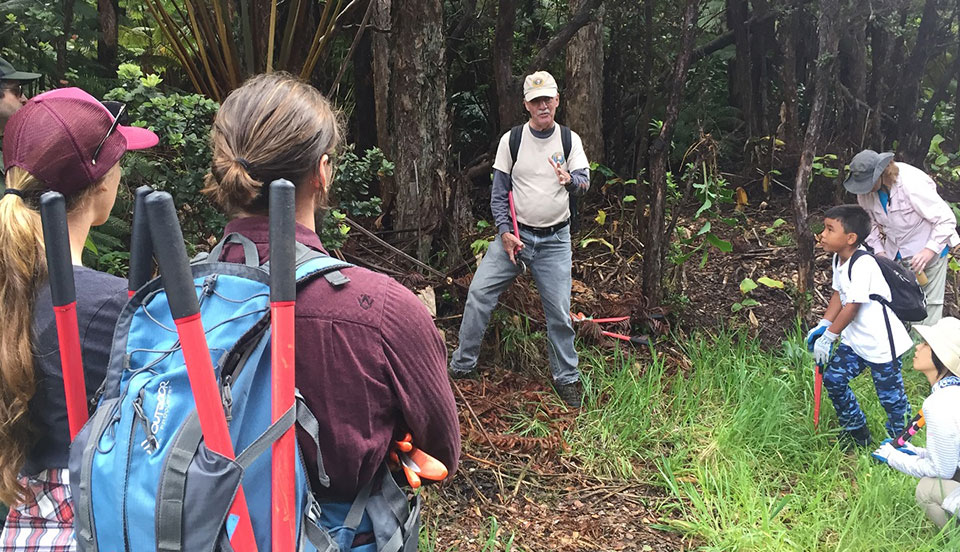 News Release Date:
August 10, 2017
Contact: Jessica Ferracane/Public Affairs Specialist, 808-985-6018
Hawaii National Park, HI
– Hawai'i Volcanoes National Park continues its tradition of sharing Hawaiian culture and After Dark in the Park (ADIP) programs with the public throughout 2017. In addition, the community is invited to lend a hand to save native rainforest through the park's  Stewardship at the Summit (SAS) volunteer program and enjoy a fee-free day on Sat. Sept. 30 (National Public Lands Day).  
ADIP, SAS and Hawaiian cultural programs are free, but entrance fees apply. Programs are co-sponsored by Friends of Hawai'i Volcanoes National Park and Hawai'i Pacific Parks Association. Mark the calendar for these upcoming events:  
Stewardship at the Summit.
Volunteers are needed to help remove invasive, non-native plants that prevent native plants from growing in Hawai'i Volcanoes National Park, a UNESCO World Heritage Site. Wear sturdy hiking shoes and long pants. Bring a hat, raingear, day pack, snacks and water. Gloves and tools are provided. No advance registration is required for groups under six, and there is no cost to participate, but park entrance fees apply. Visit the park website for details. 
When:
Sept. 2, 9, 15, 22 and 30.   
Where:
Meet project leaders at Kīlauea Visitor Center at 8:45 a.m. on any of the above dates.