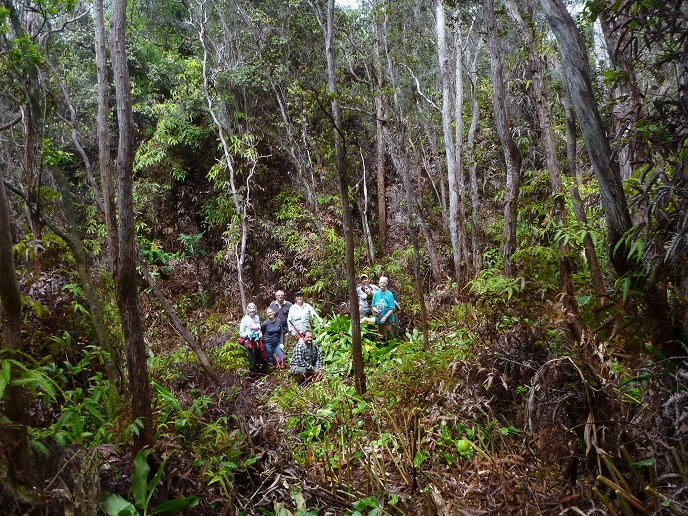 News Release Date:
September 18, 2015
Contact: Jessica Ferracane, Public Affairs Specialist, 808-985-6018
Hawaii National Park, HI – Hawai'i Volcanoes National Park invites everyone to volunteer and help protect the native Hawaiian rainforest on National Public Lands Day, Sat., Sept. 26. Everyone gets in for free, and volunteers at Hawai'i Volcanoes National Park will receive a free pass to use on another day of their choosing.
In honor of National Public Lands Day, the largest single-day volunteer effort for public lands in the United States, Hawai'i Volcanoes National Park is offering the Stewardship at the Summit program from 9 a.m. to noon. Meet volunteers Paul and Jane Field at Kīlauea Visitor Center, then head into the forest to remove Himalayan ginger from the summit of Kīlauea. While pretty and fragrant, Himalayan (also called kāhili) ginger is one of the most invasive plants in the park, and on earth. It is listed by the International Union for the Conservation of Nature as one of the 100 World's Worst Invasive Alien Species. The park strives to protect the rainforest habitat of native birds and plants, but Himalayan ginger takes over the native rainforest understory, making it impossible for the next generation of forest to grow, and it crowds out many native plants, including pa'iniu (a Hawaiian lily), 'ama'u fern, and others. Wear sturdy, closed-toe shoes and long pants. Bring a hat, sunscreen, raingear, snacks, and water. Loppers/gloves provided. No advance registration required.
Every year on National Public Lands Day (NPLD), all fee-charging national parks offer free entry. Many parks and public lands across the nation organize stewardship projects and special programs on NPLD to raise awareness about why it is important to protect our public lands.
-NPS-