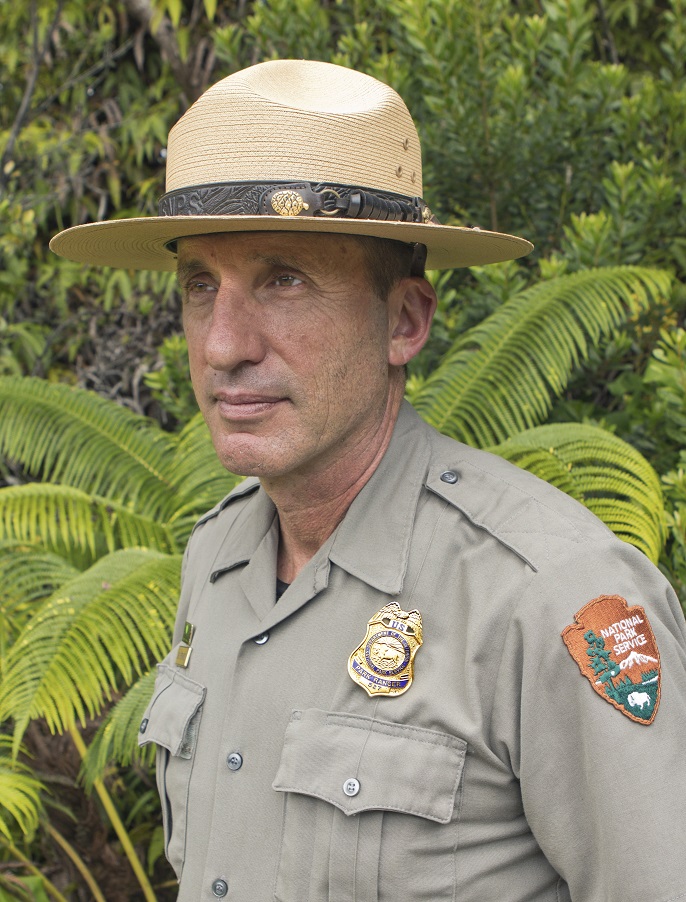 News Release Date:
August 19, 2015
Contact: Jessica Ferracane/Public Affairs Specialist, 808-345-4216
Hawaii National Park, HI –John Broward has been selected as Chief Ranger at Hawai'i Volcanoes National Park, and will direct visitor and resource protection for the 333,086-acre park.
Broward has served the National Park Service since 1983, and has an extensive background in search-and-rescue, helicopter management, incident command, and emergency medical response, in addition to visitor and resource protection. He first volunteered as an archeological technician for Biscayne National Park in Florida before graduating from Florida State University with a degree in archeology. He moved on to Everglades National Park, where he worked as a fee collector, a wildland firefighter, and as a law enforcement ranger. He spent several years as a backcountry area ranger at Crater Lake National Park in Oregon before becoming a law enforcement ranger at Hawai'i Volcanoes National Park in 2001.
Since 2001, Broward worked his way up the ranks as the park's emergency operations and search-and-rescue coordinator, and eruption crew supervisor. He also worked as the supervisory law enforcement ranger, and has served intermittently as Acting Chief Ranger for Hawai'i Volcanoes National Park.
"I wouldn't be here today if it wasn't for the National Park Service volunteer program," Broward said. "Volunteering is how I got my foot in the door, and that door opened up into a lifelong career," he said.
Broward emphasizes that planning ahead and preparation are the most essential elements to a great visit to a national park.
-NPS-