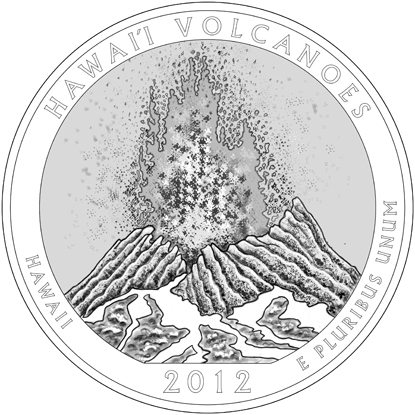 News Release Date:
January 5, 2012
Contact: Jessica Ferracane, 808-985-6018
Hawaiʻi National Park, HI - The United States Mint will feature Hawaiʻi Volcanoes National Park on a commemorative 2012 quarter to be released Aug. 27, 2012, through its America the Beautiful Quarters® Program.
The Hawaiʻi Volcanoes National Park coin depicts an eruption on the east rift zone of Kīlauea, and inscriptions include HAWAIʻI VOLCANOES, HAWAII 2012 and E PLURIBUS UNUM. It was designed and sculpted by United States Mint Sculptor-Engraver Charles L. Vickers.
"We are extremely honored that Hawaiʻi Volcanoes National Park was selected by the United States Mint to represent our state on the America the Beautiful quarter, and that they solicited our design input," said Hawaiʻi Volcanoes National Park Superintendent Cindy Orlando.
According to the United States Mint, the Hawaiʻi Volcanoesʻ quarter will be the fourth quarter unveiled in 2012, and the 14th in a series of 56 circulating America the Beautiful quarters. The reverse side (or tails side) designs are symbolic of a national park or other national site in each state, the District of Columbia and five U.S. territories.
All coins in the America the Beautiful Quarters Program have a common obverse (heads side) featuring the 1932 portrait of George Washington by John Flanagan, restored to bring out subtle details and the beauty of the original model. Inscriptions on the obverse are UNITED STATES OF AMERICA, LIBERTY, IN GOD WE TRUST and QUARTER DOLLAR.
Other emblematic coins with 2012 release dates include El Yunque National Forest in Puerto Rico, Chaco Culture National Historical Park in New Mexico, Acadia National Park in Maine, and Denali National Park and Preserve in Alaska.