Date:
October 21, 2010
Contact:
Mardie Lane
, 808.985.6018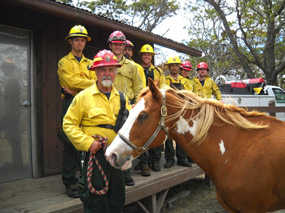 The fire severity situation within Hawai`i Volcanoes National Park is at an all time high. Since last December, a mere five inches of rain have fallen in areas of the park that would normally receive 50" or more annually.
Residents, and even visitors, have noticed that native trees and shrubs such as koa, `ohi`a, and pukiawe are turning brown, dropping leaves, and dying. The tinder adds to the wildfire hazard.
Due to the unprecedented conditions, Hawai`i Volcanoes' Fire Management Officer Joe Nolhoek augmented Hawaii fire crews with personnel from Olympic, North Cascades, Whiskeytown, Redwood, American Samoa, and Yosemite national parks and Mt. Baker-Snoqualmie National Forest.
A welcome sight, the visiting firefighters patrol for prevention, reduce fuels, formulate initial attack plans, and update their qualifications training.