Tour Group Caught in Closed Area in Hawai'i Volcanoes National Park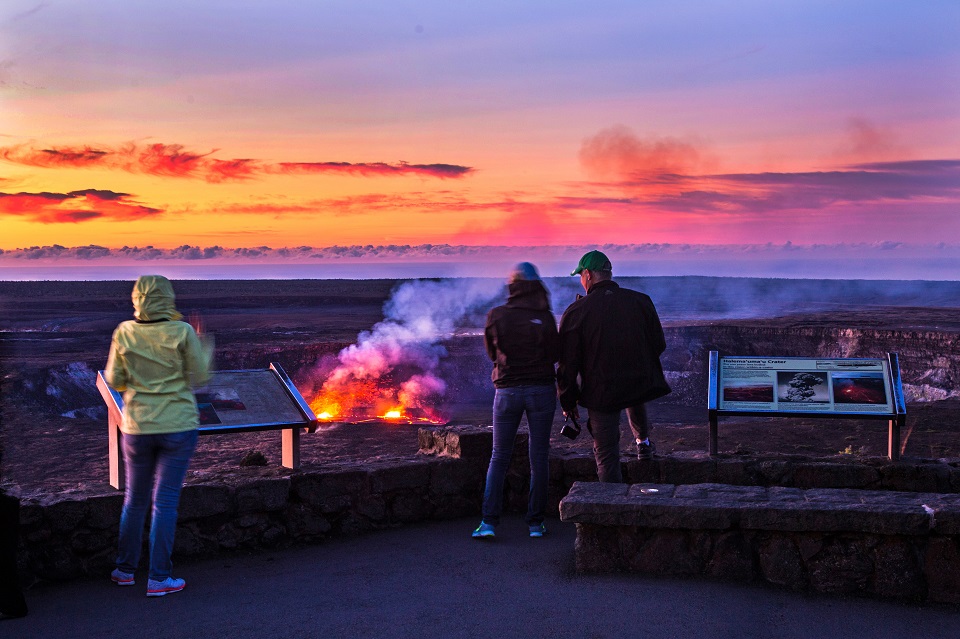 News Release Date:
March 8, 2017
Contact: Jessica Ferracane, 808-985-6018
A tour guide based in France and a tour group of 13 people were caught early Monday morning sneaking into the closed area at Halema'uma'u, the erupting summit crater of Kīlauea volcano.  
National Park Service law enforcement officers spotted the group just after midnight, and issued citations for violating the terms of the closure to all 14 people. The tour guide was issued additional citations for operating a non-permitted business in the park and creating a hazardous condition. All 14 were escorted out of the park.  
The 44-year-old male tour guide, affiliated with the French tour company Adventure et Volcans, must make a mandatory court appearance and faces a maximum penalty of $5,000 and six months in jail. His name is being withheld as the investigation continues. The violation of closure citations are $100 each, with a $30 processing fee.  
"This is a serious violation," said Chief Ranger John Broward. "Areas surrounding Halema'uma'u Crater are closed because of extremely hazardous volcanic conditions that include high concentrations of toxic gases and particulates, ongoing volcanic explosions and frequent collapses of the crater walls," he said.  
Explosions from Halema'uma'u can occur anytime, without warning. Last August, a summit explosion hurled a layer of volcanic rock, lava bombs and molten spatter nearly 300 feet beyond the crater rim, and covered an area about 720 feet wide along the rim. It destroyed the power system of a U.S. Geological Survey instrument that was used for scientific research and monitoring volcanic activity. Last October, two explosions blasted lava spatter, rock and glassy particulates a quarter mile from the crater to the closed portion of Crater Rim Drive. In November, spatter from another lava lake explosion damaged the cable on a USGS webcam located on the rim of the crater.  
Halema'uma'u Crater, a 4.7-mile section of Crater Rim Drive, and sections of the Halema'uma'u and Crater Rim trails, have been closed since the most recent summit eruption began in 2008.  
"Visitors need to be aware that, while much of the attention lately has been on the hazards of the 61g ocean entry at Kamokuna, the park staff remains very concerned about the ongoing hazards in the vicinity of Halema'uma'u," Chief Ranger Broward said. "Rangers will continue to monitor and take appropriate action to reduce the occurrence of risky behavior in both areas."  
Since July 2016, rangers have issued 35 citations for closure violations at Halema'uma'u, and nearly 100 citations at Kamokuna.
-NPS-
Last updated: March 8, 2017