Lava Lakes
The Rise and Fall of Lava Lakes

A lava lake is a pool of molten lava that persists in a vent or crater of a volcano. Lava lakes in Hawaiʻi are among the few that can be found in the world, and they have been a source of scientific study and fascination for many years. Lava lakes are constantly changing and can drain and refill, or even disappear completely, depending on the activity and volcano. Observing the lava lakes can be a unique and exciting experience, but it is important to remember that visiting an active volcano can be dangerous, and visitors should always follow safety guidelines and restrictions.
Visit our keyboard shortcuts docs for details
Duration:

1 minute, 2 seconds
This time-lapse sequence shows an hour and a half of activity in the eastern lake. Lava upwells at the fountain source and spreads out towards the lake margin, where it downwells. Video courtesy of USGS (January 2023)
Deeper View of a Loko o Pele (Lava Lake)

The lava lakes at the summit of Kīlauea volcano are not only good for viewing opportunities, but it also facilitates better scientific studies. USGS Hawaiian Volcano Observatory (HVO) scientists and their collaborators have recently completed a number of studies that provide unprecedented insights into lava lake behavior. For instance, we now know that the lava lake in Halemaʻumaʻu provides a "window" into the deeper magma system. At the same time the lake has its own internal dynamics that are superimposed by these deeper signals.

See if you can find some of these key lava lake features and processes during your visit: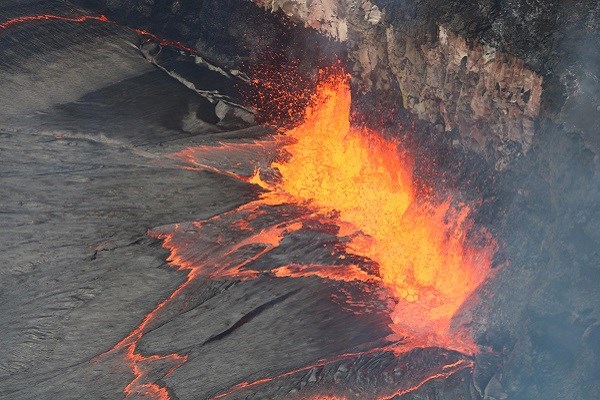 Pōhāhā (Spatter)
Spatter, or pōhāhā in Hawaiian, refers to blobs of molten rock that are expelled from a volcano during an eruption. Spatter is typically formed when lava is expelled with great force, breaking into smaller pieces that congeals on the ground. Spatter can accumulate around a vent and eventually build up a spatter cone. Solidified spatter can range in size from small beads to large blocks and is dependent on the viscosity of the lava and velocity of the eruption. Spattering often occurs where the cooled lava-lake crust sinks at the lake margins. HVO scientists use a laser rangefinder to measure fountain heights from the rim of the caldera.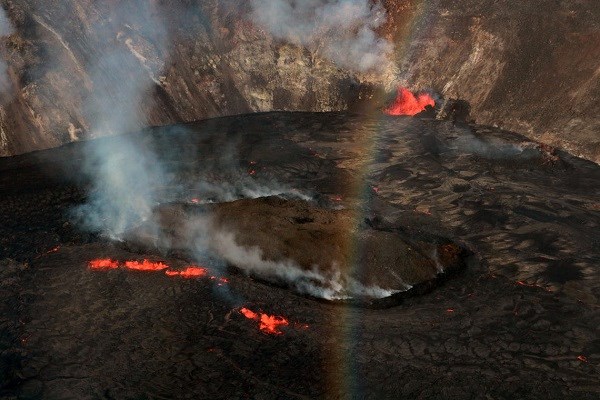 "Floating Island" or Rafts
HVO geologists found this feature to be reminiscent of the "floating islands" described by Kīlauea summit observers a century ago and earlier. During the 2020 summit eruption of Kīlauea, geologist noted that more of these features formed in a variety of sizes and heights; all eventually became stationary. Geologists suggest that raft may be a better term to describe these features as they suspect that the largest island/raft has a relatively deep draft reflecting a sluggish foundation.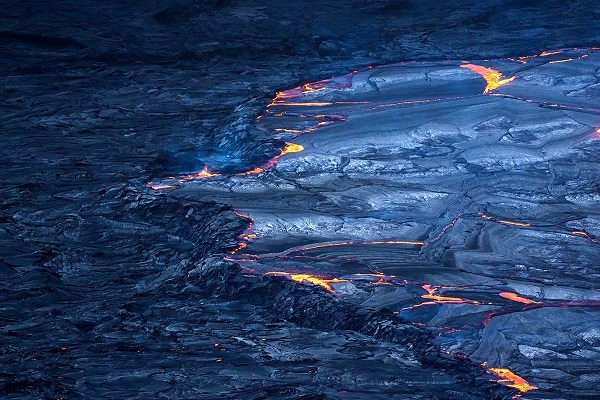 Lava Levee
Levees develop on the chilled margins of a lava lake and may be higher than the surface of the lava depending on the flow rate and pressure within the shallow magma reservoir of Kīlauea. As in this picture, small overflows of lava over a levee can occur. Overflows can be due to an increase in outflow due to increased pressure or weakening of the levee walls. This process can sometimes add to the height of the overall levee.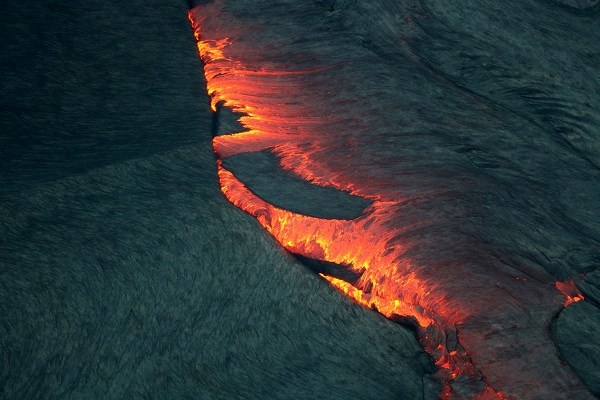 Crustal Foundering
Foundering occurs when a segment of cool lava crust on the surface of the lava lake is overridden by less-dense liquid from below, causing the crust to sink into the underlying lake lava. Density-driven crustal foundering leads to surface renewal and repeatedly occurs throughout the life of a lava lake.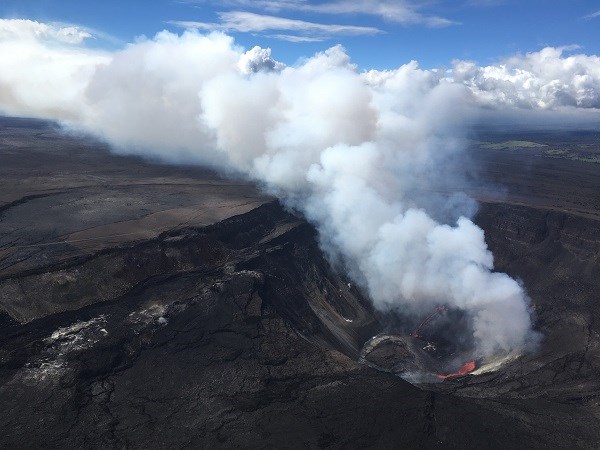 Ka Polalauahi: Volcanic Smog and Outgassing (VOG)
The volcanic plume is sulfur-dioxide (SO
2
) rich, but also contains water vapor, carbon dioxide, and halogen gasses. Water is only visible once it condenses; more than 90% of the emitted gas is steam. Steam plumes appear white because water droplets are highly reflective and therefore scatter all visible light. Some volcanic plumes also contain significant amounts of sulfur dioxide. Once emitted, it reacts with atmospheric gas to form sulfate aerosols that scatter short wavelengths of blue light (about 400 nm) producing a bluish colored plume. At night, the lava lake can produce a red glow (ka ʻenaʻena) that reflects on the volcanic gas plume above it.
All of that spattering in the lake releases large amounts of gas, which has to go somewhere. Most often, the gas plume is carried southwest in the trade winds, impacting air quality in the Ka'ū district and Kona side of the island. When trade winds break down, other areas of the Island of Hawai`i and even
the entire state can be impacted by vog.
The Lava Lakes of Kīlauea Then and Now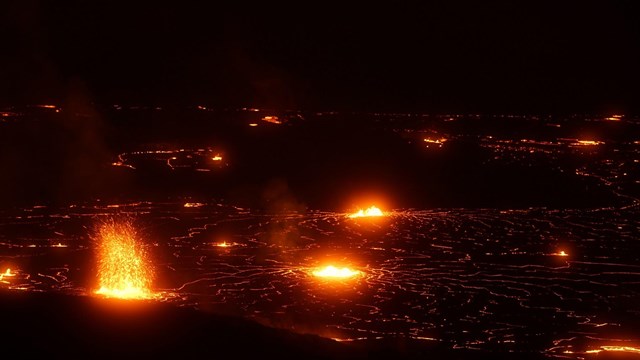 January 2023 Summit Eruption
A magnificent 61-day eruption that left park visitors in awe.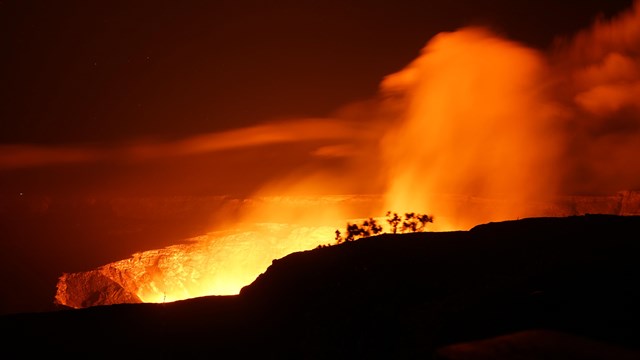 September 2021-2022 Summit Eruption
A 300-acre lava lake delights park visitors with mesmerizing lava views once more since 2018.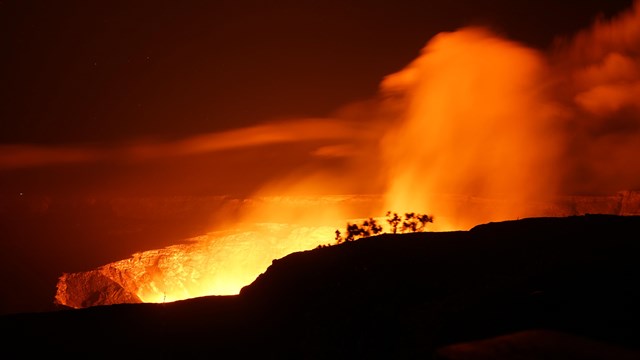 September 2021-2022 Summit Eruption
A 300-acre lava lake delights park visitors with mesmerizing lava views once more since 2018.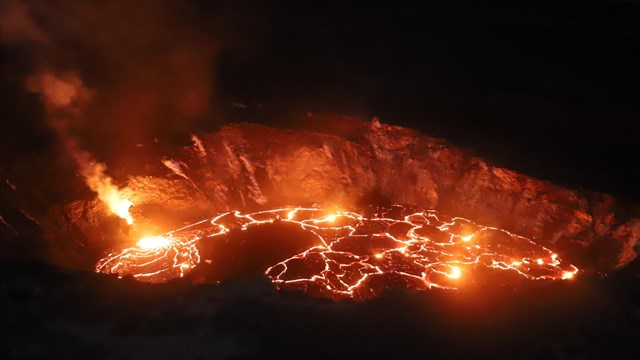 2020-2021 Summit Eruption
The first summit eruption following the collapse of Halemaʻumaʻu crater marked a significant geological event.
Last updated: November 15, 2023