Koaʻe Kea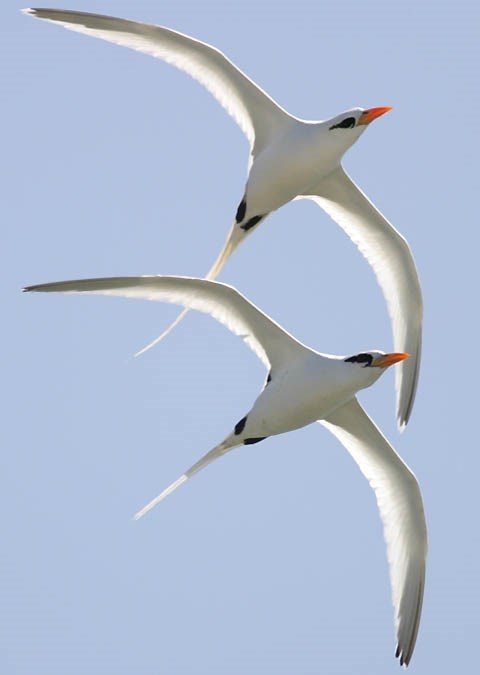 Often seen soaring above Kīlauea caldera or near pit craters in the Kaʻū Desert, the majestic koaʻe kea, or white-tailed tropicbird, is a sight to behold. The males of this indigenous species have longer versions of the hallmark tail feathers than their female counterparts. These feathers can be nearly 16 inches (40 cm) long, almost as long as the bird's body itself. Koaʻe kea have a black band on their inner wing, a black eye-mask, and an orange bill.

White-tailed tropicbirds can be found in tropical islands throughout the Pacific, Gulf of Mexico, Caribbean, and Indian Ocean, where they feed mostly on fish, snails, and crabs.

The birds will nest on cliffs, crater walls, or on sheltered ground. Because of its habit of nesting in remote or hard-to-reach cliffs, the bird is less susceptible to predation by invasive species such as cats or mongoose. Nesting pairs will lay a single egg during a breeding period, which can vary by location.

In Native Hawaiian tradition,the kinolau (body form) of Oʻahu chief Punaʻaikoaʻe can be seen as the koaʻe kea flying over Kīlauea

Within mere weeks of the massive summit collapse of Kīlauea in 2018, when Halemaʻumaʻu crater grew to a depth of 1,600 feet (490 m), koaʻe kea were seen circling the crater, looking for new nest sites. If you approach the edge of the caldera or deep craters, you may see them circle and call out, curious about the two-legged intruder in their territory.
Last updated: December 1, 2021