Kīlauea Visitor Center

On Monday, April 25, 2005, park staff, Hawaiian elders, scientists and others involved in the renovation of the Kīlauea Visitor Center gathered to celebrate the reopening of the Kīlauea Visitor Center, the number one visitor center attraction on the island of Hawai`i.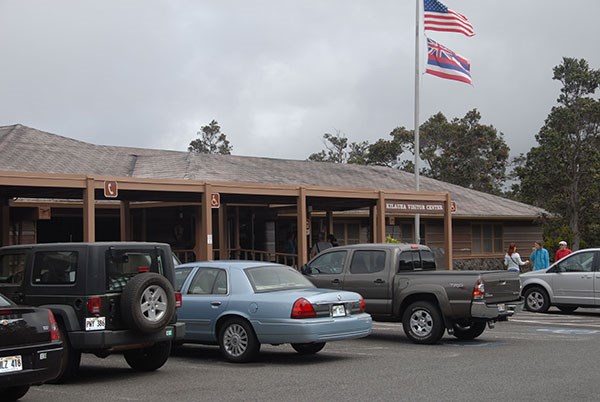 Located near the park entrance, the center is typically the first stop for the 2.6 million people who visit Kīlauea Volcano. The park revamped the center to give the public a better overview of the park's environmental, historical, and cultural features.
The visitor center's interior was renovated and all new exhibits installed. Professionally fabricated on the mainland, the exhibits' design and content reflect consultations with Hawaiians and the islands' leading biologists, ornithologists, entomologists, botanists, and volcanologists.
There are exhibits on island formation; the arrival of life by wing, wind, and wave; ecosystems from sea to summit; the sights and sounds of the rain forest; invasive species; and those who make a difference in resource protection. Interwoven throughout are the mana`o (wisdom) and mo`olelo (stories) of Hawai`i's indigenous people.

Many local artists contributed to the project and the life work and personal stories of park staff are featured in the exhibits.
The event also marked the reopening of the renovated Hawai`i Natural History Association bookstore (now Hawai'i Pacific Parks Association bookstore) that offers for sale an extensive array of educational materials related to Hawai`i's natural and cultural history. The non-profit cooperating association supports the park's mission and programs.
The renovation of the Kīlauea Visitor Center used a combination of tried and true practices to ensure innovation and efficiency. Rather than construct a new building, the shell of the existing historic structure was renovated to ensure retention of the historic character of the building.
Partnering with our oldest cooperator, the Hawai'i Natural History Association (now Hawai'i Pacific Parks Association) provided funding to the renovation, allowing us to leverage federal funds (user fees) and negotiate with contractors, resulting in a savings of $500,000.
In-house expertise provided the core of a design team that collaborated with over twenty community groups to ensure inclusion of the most provocative, current science and culture of Hawaii. Volunteer photographers were used to develop exhibits that displayed all ages and ethnicities enjoying the park, PEOPLE USING PARKS!
To mitigate Hawai`i's high electrical costs, park staff and Harpers Ferry Center designed lighting that produced no heat or ultraviolet light. A partnership with the Mountain Institute Sacred Mountain Program funded a competition for a painting of the Fire Goddess Pele and a sculpture that helps support the perpetuation of the living Hawaiian culture.
The project is a proud testament to collaboration, partnering and creative innovation.


Last updated: November 10, 2016