The Volcano School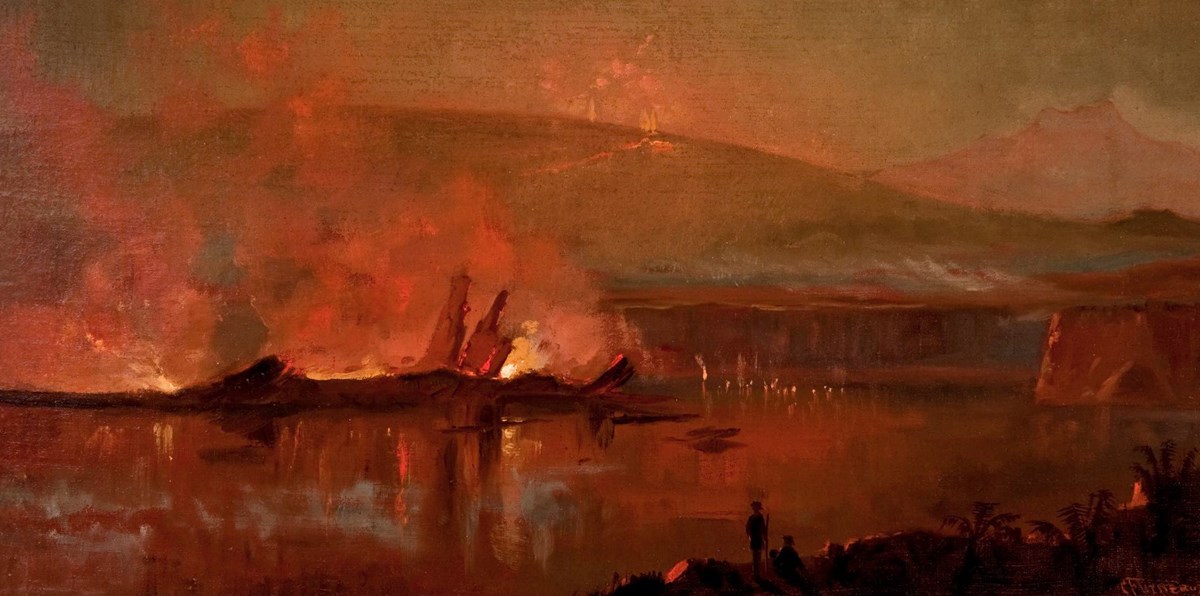 The Volcano School was a generation of mostly non-native Hawaiian painters who portrayed Hawaiʻi Island's volcanoes in dramatic, moody fashion during the late 19th century. As demonstrated in the popularity of Thomas Moran's paintings of Yellowstone, Bierstadt's paintings of Yosemite, and others, there was a growing interest and demand for 'dramatic views of the world's natural wonders' (Forbes 1992, 173) and of the western United States, in particular. With a persistent lava lake at its summit. Kīlauea certainly did provide excitement during the time period (USGS 2007). In his book Encounters with Paradise, David W. Forbes remarks that among all the Hawaiian island sites depicted, Kīlauea volcano was probably sketched and painted more than any other, with the possible exception of Diamond Head.' (Forbes 1992, 173).

The Hawaiʻi Volcanoes National Park museum collection contains artworks from three of the Volcano School artists: Charles Furneaux, D. Howard Hitchcock, and Jules Tavernier. Due to their work accomplished during the Volcano School years, Forbes considers Furneaux and Tavernier to be two of the three, '…"old masters" of Hawaiian painting.' (Forbes 1992, 174). Other institutions in Hawaiʻi have sizable collections from these artists. In September of 2006, eleven artworks by the artists above were on display in the John Dominis and Patches Damon Holt Gallery in the Honolulu Academy of Arts. The Bernice Pauahi Bishop Museum's archives database listed 73 artworks in their collection by the artists above. Sixty of these artworks depicted scenes of Kīlauea or other HAVO landscapes. The Lyman Mission House and Museum in Hilo, Hawaiʻi holds eleven paintings from these artists as well.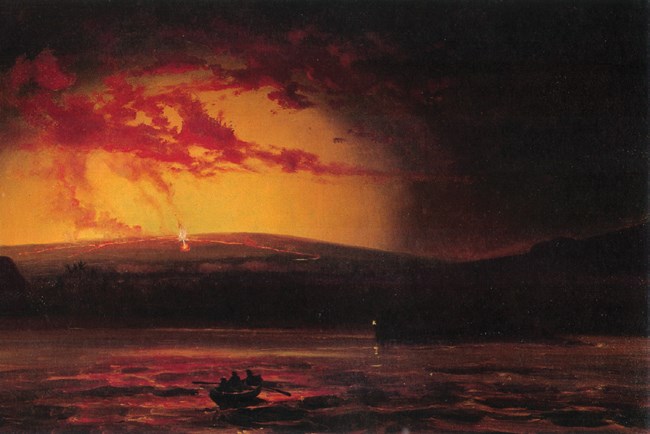 Charles Furneaux (1835-1913)
According to
Who Was Who in American Art 1564-1975, 400 Years of Artists in America
, Charles Furneaux's work focused mainly on, '…Hawaiian volcanic eruptions, 1880-81 and 1887 and general depictions of Kīlauea Volcano.' (Falk 1999, 1217). Only arriving in Hawaiʻi in 1880 (Severson et al. 2002), Furneaux became an established citizen befriending the royal family and teaching at the Punahou School (Falk 1999, 1217).
Hawaiʻi Volcanoes National Park has four works by Furneaux, three of eruptions scenes from outside the current national park such as the
1880-1881 eruption of Mauna Loa
as it approached the city of Hilo, and one Kīlauea scene.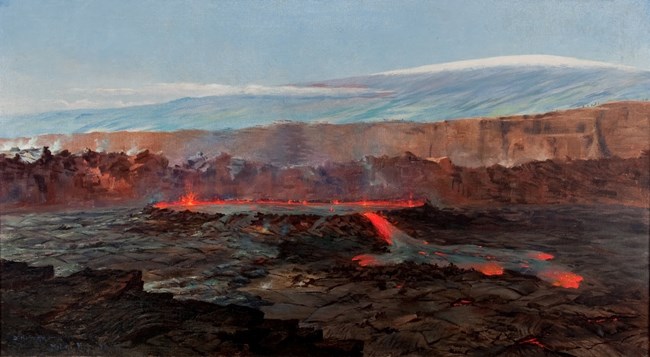 D. Howard Hitchcock (1861-1943)
D. Howard Hitchcock is perhaps one of the most important and loved artists from Hawaiʻi. Although born and raised in Hawaiʻi, he left the islands to study art in San Francisco and Paris (Hughes 2002). Hitchcock exhibited in the Paris Salon in 1893 (Falk 1999). Even during his early years of painting in Hawaiʻi, Hitchcock was something of a local celebrity. As Forbes states,
'Hitchcock was early hailed as "our island painter" and his early canvases met an enthusiastic reception in Hilo and Honolulu. The Honolulu press commented on them at length. His early work, up to his European trip in 1890, shows great indebtedness to (Jules) Tavernier….' (Forbes 1983, 17).
Before his formal training abroad, Hitchcock was inspired by other Volcano School painters and was encouraged by Jules Tavernier to endeavor life as an artist. Hitchcock admits to following Tavernier and Joseph Strong around, 'like a parasite' (Maxon 1987, 22).
The park has eleven paintings by D. Howard Hitchcock, one of which is painted directly onto the fireplace of the 1877 Volcano House (Currently the Volcano Art Center gallery). Scenes of Kīlauea dominate this collection, as well as some forest and plant scenes, the volcano deity Pele, and one of Mauna Loa. D. Howard Hitchcock is a significant painter in Hawaiʻi but even in American art more broadly.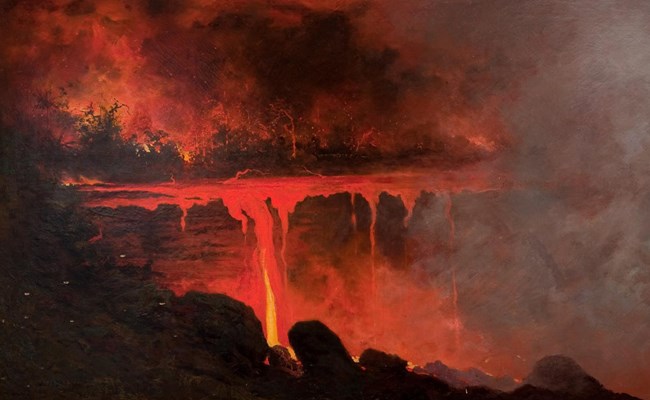 Jules Tavernier (1844-1889)
As one of the key artists of the Volcano School of painting, Jules Tavernier was nearly as exciting as the eruptive landscapes he painted. Born and educated in Paris, he exhibited at the Paris Salon and had some recognition for his work there (Hughes 2002). He eventually made his way to the eastern United States to work as an artist. In 1873 he continued west to paint scenes of the frontier that were becoming extremely popular in American art (Ibid.). This journey eventually lead him to California where Tavernier would briefly settle and become the center of the San Francisco Bohemian art scene (Ibid.). Many of these Western paintings show up in auction today and are considered creditable works of that genre (Neuhaus 1931).
Arriving in Hawaiʻi in 1884, Tavernier immediately began to paint Kīlauea (Forbes 1983). Tavernier became a local celebrity for his popular artworks as well as for his 'Bohemian' lifestyle. He was even appointed as court painter by King Kalākaua and commissioned to paint a portrait of Robert Louis Stevenson (Hughes 2002). Sadly, Tavernier never started that portrait. The last work Tavernier created was said to be a self-portrait, depicting his deteriorated health and haunted by his struggles with alcoholism, debts, and severe asthma attacks (Tanner 1989). Tavernier succumbed to his health problems in 1889.
The Hawaiʻi Volcanoes National Park museum collection contains three artworks by Tavernier.
References:
Falk, Peter Hastings, editor in chief. 1999. Who Was Who in American Art 1564-1975, 400 Years of Artists in America. Madison, CT: Sound View Press.

Forbes, David W. 1983. 'Hilo 1825-1925' in Hilo 1825-1925: A Century of Paintings and Drawings, by David W. Forbes am.I Thomas K. Kunichika. Hilo, Ha,vaii: Lyman House Memorial Musemn. p. 8-20.

Forbes, David W. 1992. Encounters with Paradise: Views of Hawaii and Its People, 1778-1941. Honolulu, Hawaii: Honolulu Academy of Arts.

Tanner, Jerre E., ed. 1989. Hawaii Island Artists and Friends of the Arts. Malama Arts, Inc., Kailua-Kona, Hawaii.

Last updated: April 7, 2022