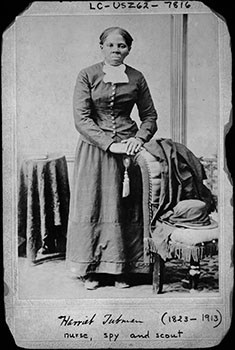 Conductor on the Underground Railroad, military leader, suffragist, and descendant of the Ashanti ethnic group in Ghana, Harriet Tubman is an American hero. The sacrifices she made to save her family and friends from slavery continues to inspire others today.
Enslaved Families in Dorchester County

Araminta Ross (Harriet Tubman) was born enslaved in 1822 in Maryland's Eastern shore in Dorchester County. Harriet Tubman's parents, Harriet "Rit" (mother) and Ben Ross (father), had nine children. As a child, Tubman did not have the opportunity to spend time with her family. She was separated from her father when her slaveholder, Edward Brodess, moved only Tubman, her mother and siblings to his farm in Bucktown. Also, three of her older sisters were sold into slavery in the Deep South. By age six she was separated from her mother when she was rented out and forced to work for other masters to care for their children, and catch and trap muskrats in the Little Blackwater River. Tubman remembered the emotional pain being separated from her family, which she never wanted to experience again.